Asheville and Western North Carolina (WNC) are renowned for a thriving restaurant industry, live music scene, modern funky breweries and taprooms as well as cutting-edge technology, and a mix of modern art and Appalachian folk art. Heck, we're even tops in Christmas tree production. But have you checked out our BBQ? Seriously! We've got the scoop on the 5 top barbecue joints in Asheville NC.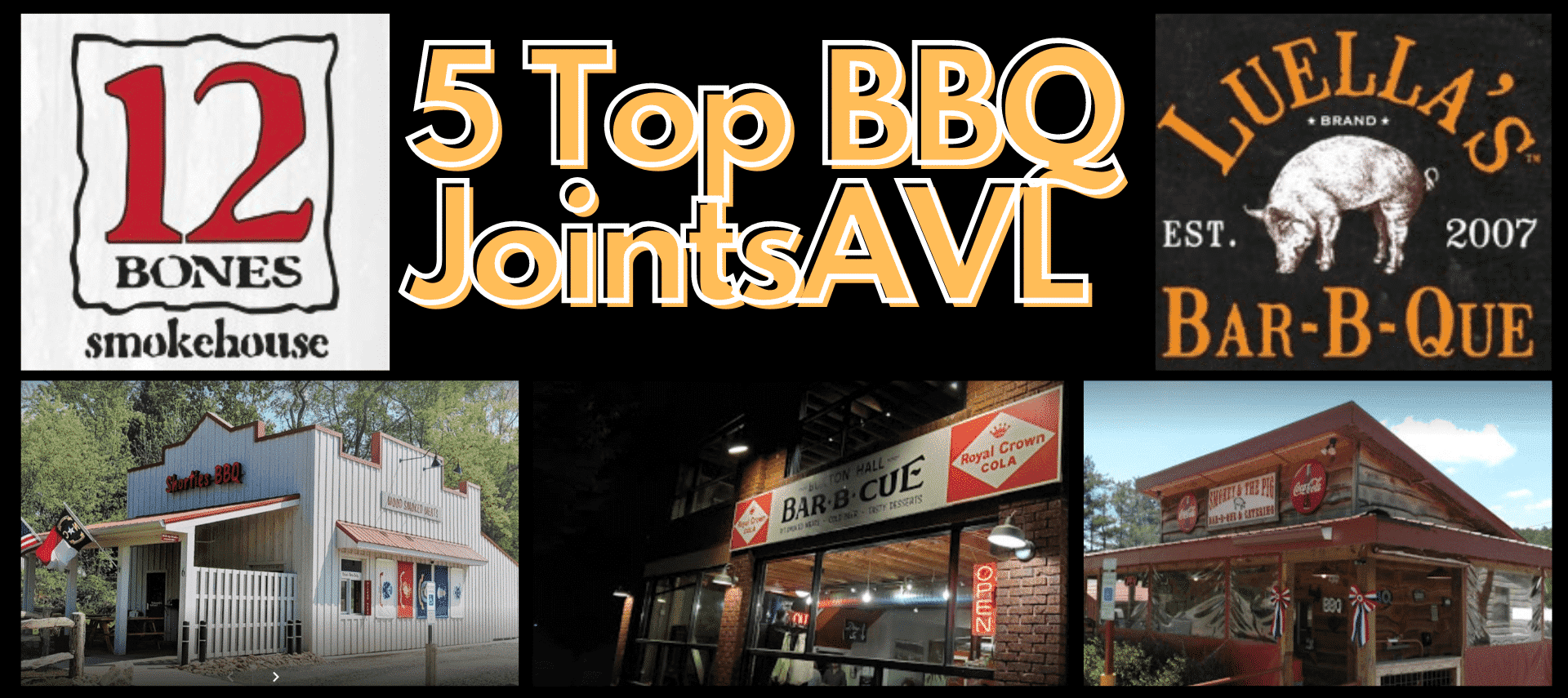 North Carolina BBQ
Barbecue (or Barbeque) plays a vitally important role in North Carolina's history. The topic of barbecue has prompted various bills and laws to be enacted in the state (we are NOT kidding). In fact, just the existence of our 3 distinct styles of BBQ (Lexington, Lexington-Piedmont and Eastern style) have been enough to wage battle over which is better – akin to the Italian controversy over tomato marinara (Is it gravy? Or is it sauce?). Eastern-style sauce is cider vinegar-based, while Lexington/Piedmont adds tomato-ketchup to the vinegar, and Lexington (popular around Lexington, NC) uses a sweet vinegar sauce, and is usually served with red slaw. And here's where you can get the best we've got in Asheville:
Right around the corner from Wildberry Lodge! Shorties specializes in slow hard-wood smoked BBQ, using hickory as their preferred wood. The convenience of drive-thru is a real plus! Your taste buds will salivate overtime as you check out their menu (make sure you have a napkin nearby!) 6 Newfound Rd, Asheville. Open Tues-Sat 11am-8pm.  828-505-7824.
Luella's menu draws on old family recipes for some hearty offerings including ribs, brisket, pulled pork, and chicken with sides like fried okra, collards, spicy vinegar coleslaw and more. Dine in, or order online for take-out. Luella's has 2 locations to serve you, both with the same hours: Open Sun-Thurs 11am-8pm, Fri-Sat 11am-9pm. North Asheville: 501 Merrimon Avenue. 828-505-7427. South Asheville:  33 Town Square Blvd., Biltmore Park.  828-676-3855.
Located just east of Asheville in Fairview, Smokey & The Pig is a small family-owned and operated restaurant. Their BBQ is smoked in a wood-burning smoker (no gas!) with the meat flavored by the wood. You can eat-in or take home, it's ready in minutes! 913 Charlotte Hwy, Fairview. Open Daily 10am-8pm. 828-222-2595.
12 Bones has 2 locations featuring Southern style, slow wood-smoked barbecue (oak and cherry are the woods of choice) and scratch-made sides. Take-out & delivery are available at both locations; the South location has a dine-in option Tues-Sat 11:30am-4pm. River (take-out/delivery only): 5 Foundy St., Suite 10, Asheville. Open Mon–Fri 11:30am–5pm. 828-253-4499. South:  2350 Hendersonville Rd, Arden. Tues-Sat 11:30am-8pm, Sun 12-6pm. 828-687-1395.
Located in Asheville's South Slope, Buxton Hall features wood-smoked, whole-hog East Carolina BBQ and traditional Southern sides. Open for takeout & delivery only, there are picnic tables up front so you can sit and enjoy your takeout if you choose. Bonus: they also offer Sunday brunch 11:30-3! 32 Banks Avenue, Asheville. Closed Mon-Tues. Open Wed, Thurs & Sun 11:30am-8pm; Fri-Sat until 9pm. 828-232-7216.
Check Out Our Mid-Week Getaway Deal!
Not far away from all this deliciousness sits Wildberry Lodge, just minutes from downtown Asheville. Our guests enjoy a retreat with gorgeous views, luxurious guest accommodations, and genuine hospitality. Our breakfasts are homemade goodness that will sweeten your culinary experience.
Did you know that National Barbecue Day is Sunday, May 16? A perfect time to try our Mid-Week Getaway so that you can properly spend time sampling our area's marvelous BBQ! Stay with us for 3 nights Sunday through Thursday and get 50% off your third night! Use promo code Getaway when making your reservation. Valid Through June 30, 2021.
Savor the mountains with us. Book online or call 828-683-2525.