A Walk through Weaverville
Weaverville and the Reems Creek area seem to serve as a beacon for people seeking out small town, laid back living.
The area has deep roots in catering to restoration of health and of spirit. In the 1800's the town was known for its grandeur hotels and being within close proximity to natural hot springs that fed the soul and revitalized well-being. Quickly, this little town made a name for itself as a quaint vacation destination.
Weaverville's main hub is downtown Main Street. The strip is a beautiful walk housing all the essentials for a fun day. You'll find great eats, sweets and artistic treats just waiting to meet your acquaintance.
Top picks in Weaverville
Great Eats
Glass Onion- (18 N Main St.) The owners Eddie and Natalie focus on Northern Italian and Global Cuisine with a focus on fresh local ingredients. I highly recommend their scallop dish.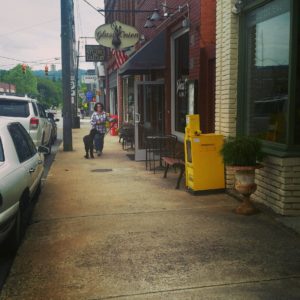 Stoney Knob Café- (337 Merrimon Ave.) This happens to be my favourite restaurant in the entire Asheville area. They definitely have a funky scene with an old world meets disco ball theme going on. Trust me, it's fun in there. The food is a delightful blend of Americana, Greek and European.
Bavarian Restaurant and Biergarten- (332 Weaverville Rd.) Schnitzel, bratwurst, spätzle and authentic beer from Deutschland await you in this little lodge-like nook.
Sweets
Well Bred Bakery- (26 N Main St.) Voted the best bakery in WNC for two years running now, this is definitely a local favourite for hand crafted goods. They make everything from baklava to blood orange macaroons to the most gigantic eclairs I have ever seen. In fact, my husband and I frequent this place specifically for the eclairs. Not into sweets? That's OK, they also have great brunch/lunch options such as bacon loaded quiche, a variety of sandwiches and side options.
Creperie and Café- (113 N Main St.) They offer a large assortment of sweet and savory crepes. Need I say more? Tiny pancakes for the win!
Artistic Treats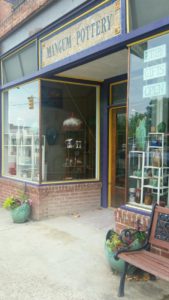 Mangum's Pottery and Studio- (16N Main St.) The people, Rob and Beth Mangum, are just as wonderful as the pottery they create. They strive to "find the union between heritage and contemporary design". If you are visiting studios, I highly recommend you stop by.
Crucible Glassworks Hot Glass Studio and Art Gallery- (60 Clarks Chapel Rd.) Specializing in hand blown vases, glassware and platters as well as hosting live glass blowing demonstrations most Wednesdays through Saturdays.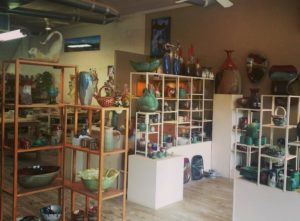 Written by Kate Randall