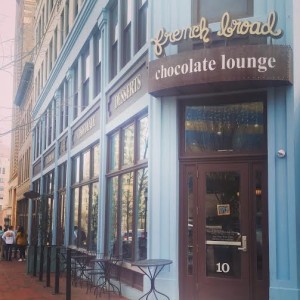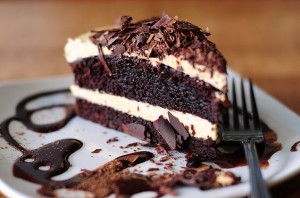 If you have a sweet tooth and have found yourself in Asheville during your stay, then you are in luck! The French Broad Chocolate Lounge is something of a local icon around here and for good reason. The owners Dan & Jael fell in love with each other and chocolate in Costa Rica and brought this love here to share with us.
Their highland mocha stout cake makes me swoon as it probably one of the most decadent things I have ever tasted in my life. Other cakes include their quintessential chocolate, carrot cake, flourless torte and a lavish cheesecake. Truffles are a fun dessert to get into for they create the most interesting combinations of flavor such as the Earl Grey truffle with bergamot and Mediterranean citrus, the Thai truffle with lemongrass, ginger and toasted coconut and the Maple & Smoked Sea Salt truffle. If you are in the mood for something a bit more sumptuous then you can turn these flavors into a wonderfully hot liquid ganache. I had a delightful experience when I paired one of the local dark and creamy stouts with vanilla bean ice cream. You can also sip on a nice wine and enjoy the melding with the dark chocolate.
Lounge is a perfect word for this place because when you are here you truly feel like you get to relax. It is a spacious building and you get an opportunity to unwind on their ridiculously comfortable leather couches. My family comes here often year round! Ice cream, brownies and shortbreads in the summer and cake, hot ganache and crème brulee's in the winter. And did I mention their coffee? They have great coffee!
The French Broad Chocolate Lounge is located in downtown Asheville at 10 S Pack Square. They are open Sunday- Thursday 11AM to 11PM and Friday-Saturday 11AM-midnight. Check back with us next month when I take you to the FBCL factory and tasting room for an inside peek where all the magic happens! I'll also be sharing with you a fabulous liquid truffle recipe that you do not want to miss!