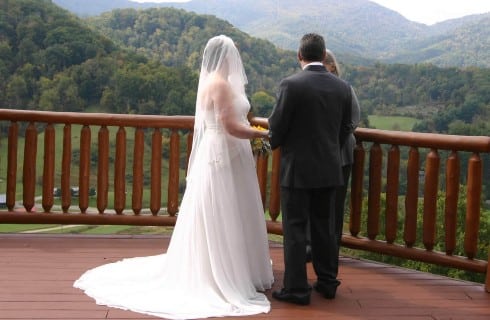 So, you've found your special someone, and you've both decided to take the next step, combine your lives/kids (2 legged and 4 legged)/living spaces and make one big happy family. Congrats! And, now you just acquired a new job: Wedding Planner. Ouch. You just got "hired" to manage one of the most significant days in you and your partner's lives. We have a suggestion for you: make it a destination wedding. And one of the most popular places to get hitched is Asheville, North Carolina. Why not come to Wildberry Lodge, our Asheville bed and breakfast, where a Smoky Mountain wedding or elopement is affordable with our nuptial packages?
Why Asheville? This area has become a vacation and tourist hot-spot, for a variety of reasons. We're year-round, for one, with plenty of activities and attractions for your wedding party no matter the season or temperature. The combination of foliage and flora, stunning scenery with breathtaking mountain vistas create an opportunity for spectacular photos, and, more importantly, present a marvelous backdrop for your wedding ceremony, photos and reception.
I Don't Want My Wedding Party To Get Bored… Asheville has something for everyone, no matter their interests. The outdoorsy-type will love walking Asheville's Urban Trail, hiking waterfalls and trails. History and architecture buffs can explore iconic Biltmore and its gardens. The foodie will experience an array of eateries, gastro pubs, and restaurants serving up everything from basic bar fare, ethnic choices, and fine dining to a signature southern staple: good old Blue Ridge barbecue at Luella's. Beer lovers, look out: Asheville is home to 30-some breweries – 11 of which are within 1 square mile of each other in South Slope! And your guests who prefer to shop until they drop will find an assortment of gifts, clothing, décor-anything and everything, available in shopping districts, malls and the like, where the only limits are the size of one's pocketbook.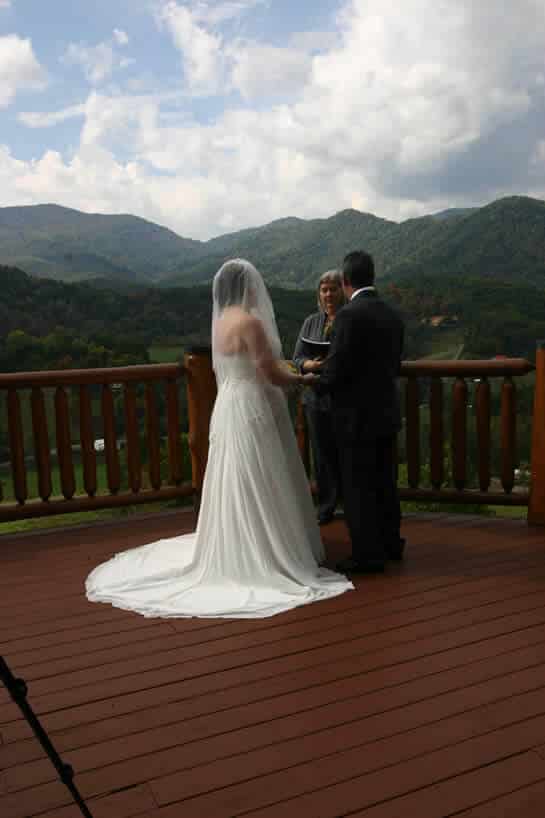 So, About That Wedding And Reception… Asheville has numerous venues, indoor and outdoor, breweries, and restaurants that provide great spaces for all occasions and all-size weddings. If you are planning a small, intimate wedding ceremony with 25 guests or fewer, Wildberry Lodge can host everything for you. Weddings at Wildberry Lodge are more intimate than formal, structured ceremonies held in churches. Ceremonies are mainly held on the main deck, with a mountain backdrop, at the Forest Retreat in the woods, in the side yard, or at the Tipi. Ceremonies can be moved inside for inclement weather. Because of the openness of the Lodge, weddings are an exclusive event and the property will be blocked for the wedding group. Please see our website for group rates and details. We will be happy to customize an event just for you!
Shhh, We Don't Want Anyone To Know… Planning to Elope? We also offer "elopement packages" from 2 to 6 people including the happy couple! We take care of all the details including the cake, champagne and non-denominational officiant. Visit our Wedding tab on our website for details. Give us a call at 828-683-2525 and we'll be happy to help you.