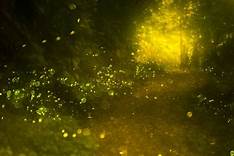 There is a special place nestled within the edge of the Smokey Mountains where nature puts on its own kind of Fourth of July fireworks show, only this jaw-dropping spectacle happens every year in the first week of June, when the mesmerizing synchronized fireflies light up the mountains. This is an experience that no photographic lens in existence can quite capture the exquisite and enchanting beauty that these bioluminescent creatures provide.
There are other places in the world that have synchronous fireflies; three other places in Southeast Asia. Those species illuminate in unison just like ours however they do so while perched on trees, unmoving. The Elkmont area of the Great Smokey Mountain National Park is the only place in the world where you can see their golden waves of light beat together in perfect harmony while watching them sway around the tree tops and dance over the carpet of the forest floor.
Getting Tickets For Synchronous Fireflies In The Smoky Mountains
In late April each year, the Smoky Mountains National Park announces the viewing dates as well as the date the parking passes will go on sale – these passes always sell out fast so be ready!
Once the passes go on sale, you will be able to purchase them from Recreation.gov. For each of the seven evenings, there are 111 advance parking passes (first-come, first-serve), 36 large vehicle passes (first-come, first-serve), and 85 day before parking passes sold (on sale the day prior.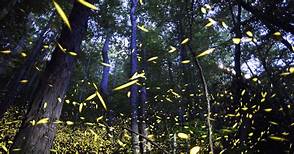 Alternate Viewing Spots
If you are not fortunate enough to score parking passes for the main event at Elkmont, don't be too surprised. Unfortunately, only approximately 1,000 fortunate people per evening get to visit the Elkmont area while the lightning bugs are at their peak. However, all is not lost. The synchronous fireflies can also be found at the backend of Cades Cove (near the Abrams Falls trailhead) or at Catalooche Valley.