Chihuly at the Biltmore is set to be a moving and memorable experience for all who are wise enough to partake. It is a unique presentation of the artistic expression of Dale Chihuly, an internationa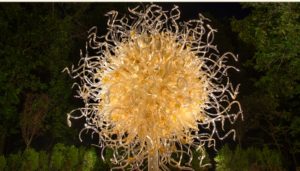 lly renowned sculptor with works displayed in over 200 museums world-wide that have gained the adoration and respect of art enthusiasts on a global scale. We are very lucky to have the Biltmore showcasing his daring brilliance.
What to expect:
The timeless beauty of Chihuly's magnificent and monumental glass sculptures will be immersed with the landscape to co-exist with nature. Classic Biltmore gardens such as the Winter Garden, Italian Garden and the Walled Garden which were designed by Fredrick Law Olmsted, will all have the luminous and graceful curves of the glass sculptures integrated into botanical backdrop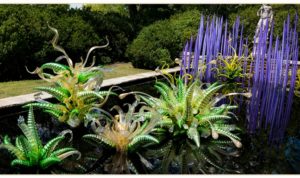 s that will have your jaw dropping in admiration.
This is a truly incredible experience and I highly recommend visiting this event if you are able. The Biltmore Estate may never again showcase Chihuly's artwork. This surreal and enchanting presentation of his artwork is amazing not just because of his own innate talent and vision but also because it is being infused with the grandeur and elegance that is the Biltmore Gardens.
Don't worry about rushing to get ticket though! This highly anticipated event was bound to be extremely popular so the Biltmore made sure to set dates for an extending viewing period. The grand opening day is May 17th and will last through the summer all the way to October 7th!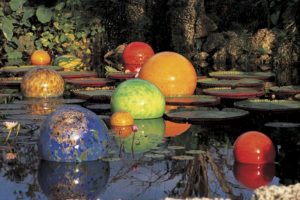 Two tickets will be available to you; Daytime tickets and Nighttime tickets. The daytime tickets are included in the price of admission but the nighttime tickets are sold separately. Ticket prices for peak days are $75 and for regular days they are $ 67. Both tickets include a self-guided tour to Biltmore House & Gardens, admission to Antler Hill Village & Winery, estate shops, restaurants, and The Biltmore Legacy as well as Complimentary tastings at America's most-visited Winery.