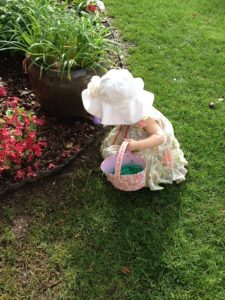 Easter is such a wonderful holiday to celebrate. It just exudes happiness and playfulness and is just in time for that spring time buzz! You know what buzz I'm talking about right? That giddy buzz we feel when the warm sun kisses our cheeks again, the flowers are blooming bringing life and light to our surroundings, the birds serenade us with their songs and the green grass tickles our bare feet once more. Yes, that buzz! And celebrating Easter is the perfect way to set the pace! Check out these fun and delightful ways to celebrate Easter during your vacation stay!
Biltmore Easter Egg Hunt April 1st 9 am-2 pm
Welcome to the Southeast's largest Easter egg hunt with hundreds of children rummaging through the front lawn in their Sundays Best of the Biltmore House for sweet treats. You also get to enjoy magic shows and even hang out with the Easter Bunny and get great photos! After the epic hunt you can head on over to the Anlter Hill Village to enjoy additional fun activities like Giant Bubbles at the Village Green, Sheep Herding at the Farmyard and so much more!
This is a very 'eggciting" celebration!!!!! This annual event hosted in downtown Asheville is hosted by our very own local Ingles Market and beloved by all! Festivities kick off in downtown Pack Square. This year features timed age appropriate egg hunts, giant inflatables, obstacle courses and a mini bounce house.
Easter Sunrise Service at Chimney Rock April 1st
If you've never been to Chimney Rock, this is the perfect introductory event! The sunrise over Hickory Nut Gorge is legendary in these parts, and this event follows it up with a beautiful service put on by several churches in Hickory Nut Gorge. A community of locals and visitors alike come to celebrate the holiday and revel in the beauty of this small corner of the state.