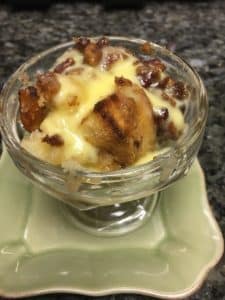 I am excited to finally be sharing with you Wildberrys Bread Pudding with Crème Anglaise recipe. Bread pudding is one of those foods that people seem to love or hate. This bread pudding, however, seems to be a converter of tastes. On numerous occasions we have served up this dish to guests who have NEVER liked bread pudding. Purely for the sake of manners and courtesy, they gave it a try…..and much to their surprise they loved it. This is the dish that consistently pleases our guests at breakfast so much so that they have zero qualms licking their plate clean. Once you try this crème anglaise you'll know why! I personally eat the left over crème with a spoon. No one judges.
You know what they say? Once you go Wildberry Bread Pudding you never go back. That's totally a saying…..right?
Without further ado, here is the scrumptious recipe!
Written by Kate Randall