During the fall season, the Smoky Mountains burst into color. It's the perfect time for a relaxing fall vacation in the Smoky Mountains. The changing trees include sugar maples, hickories, scarlet oaks, and nearly 100 other varieties, making the mountain views simply stunning. Get out your calendar, and book your stay at our Lodge! Here is why we know it's a great idea:
Perfect Weather Conditions
Some folks love the heat of the summer, but we think that fall might be the best season of all. We have warm sunny days and the nights start to cool off. It's perfect for snuggling and getting a great night's sleep. September's temperatures have an average high of 74 degrees — warm, but still perfect weather for hiking or biking. The temperatures drop a bit more in October, with highs in the mid-60s — still great for outdoor sports. Just step outside with another layer of a sweater or a light jacket. Besides, doesn't the fire pit sound more inviting when the temperatures are cooler?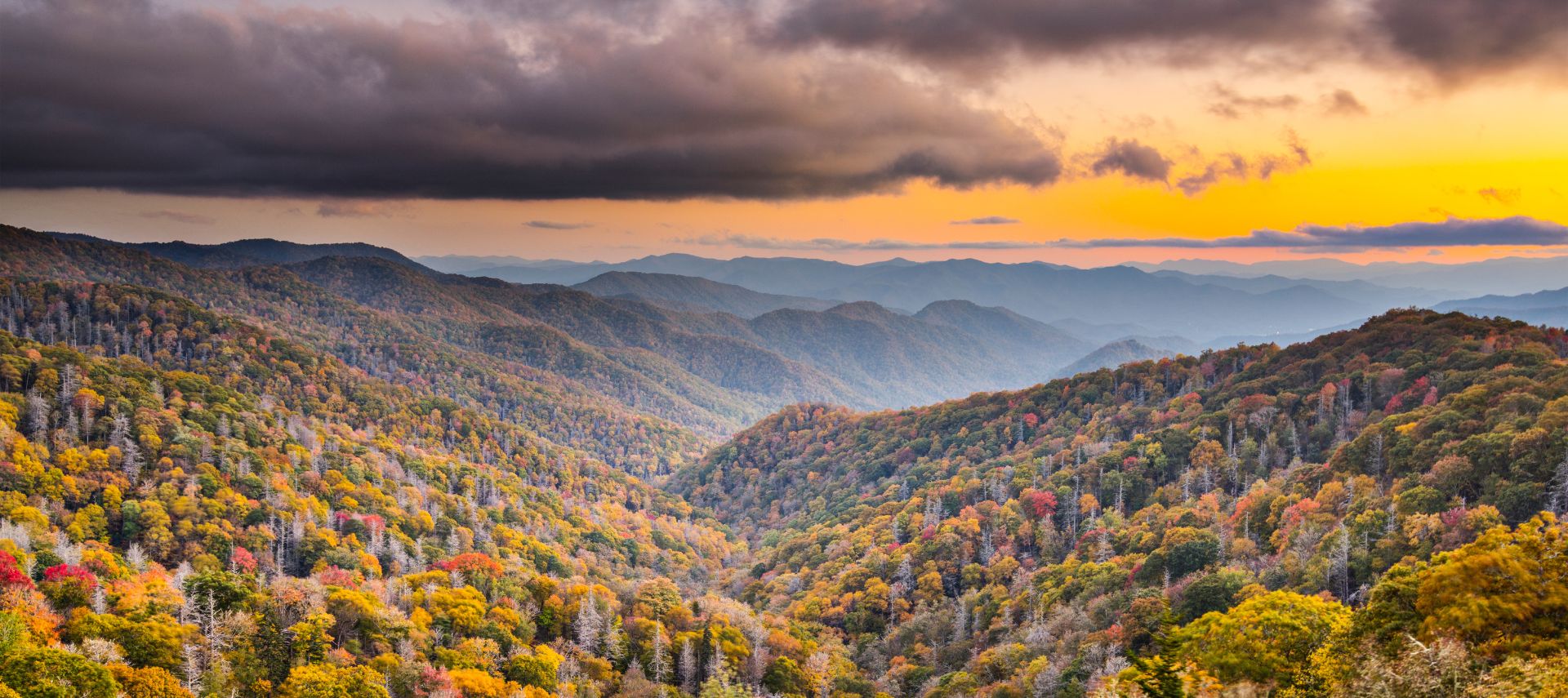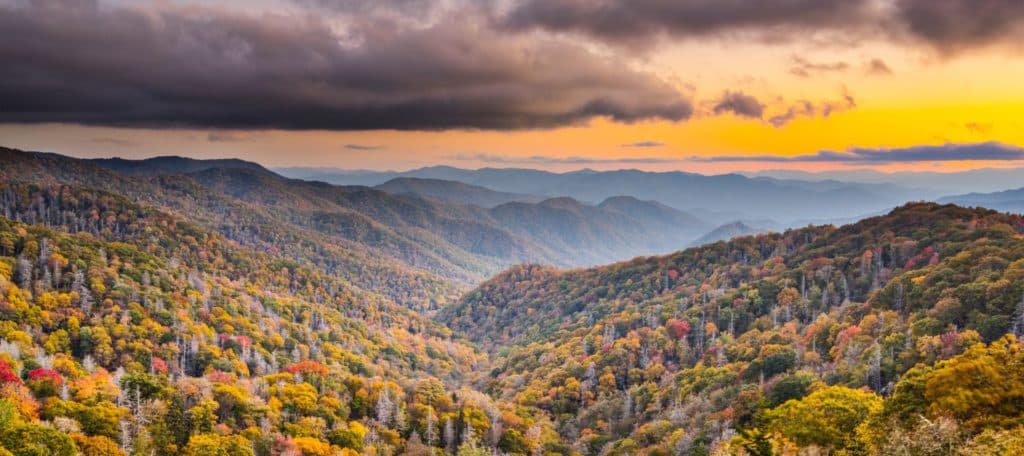 Fall Foliage
Along with those cooler temperatures comes the changing of colors, which is the highlight of the season! We are particularly lucky because our season of color lasts from the end of September through mid-November; it just depends on the elevation that you are planning to visit. The higher the elevation brings the first changes in color. Changes start in September with the highest points of the Blue Ridge Parkway. For hikers, this means the Rough Ridge Trail in the Pisgah National Forest.
As you continue into October, more and more of both the Blue Ridge Parkway and the Smoky Mountains explode into color. By the end of October, the city of Asheville, Waynesville, and Lake Lure will all be at their peak.
What colors will you see? Sweetgums can range in color from red to purple to yellow. The brightest reds will be the scarlet oak trees. Sugar maple trees will present with orange and yellow, and red maples will show as red and yellow.
Fall Festivals
Along with the color changes, fall heralds the arrival of some of our favorite fall festivals! Come and enjoy the bounty of our apple orchards and pumpkin fields. In addition, the workmanship of talented artisans, the melodies of amazing musicians, and the puzzle of corn mazes. You'll feel like a kid again!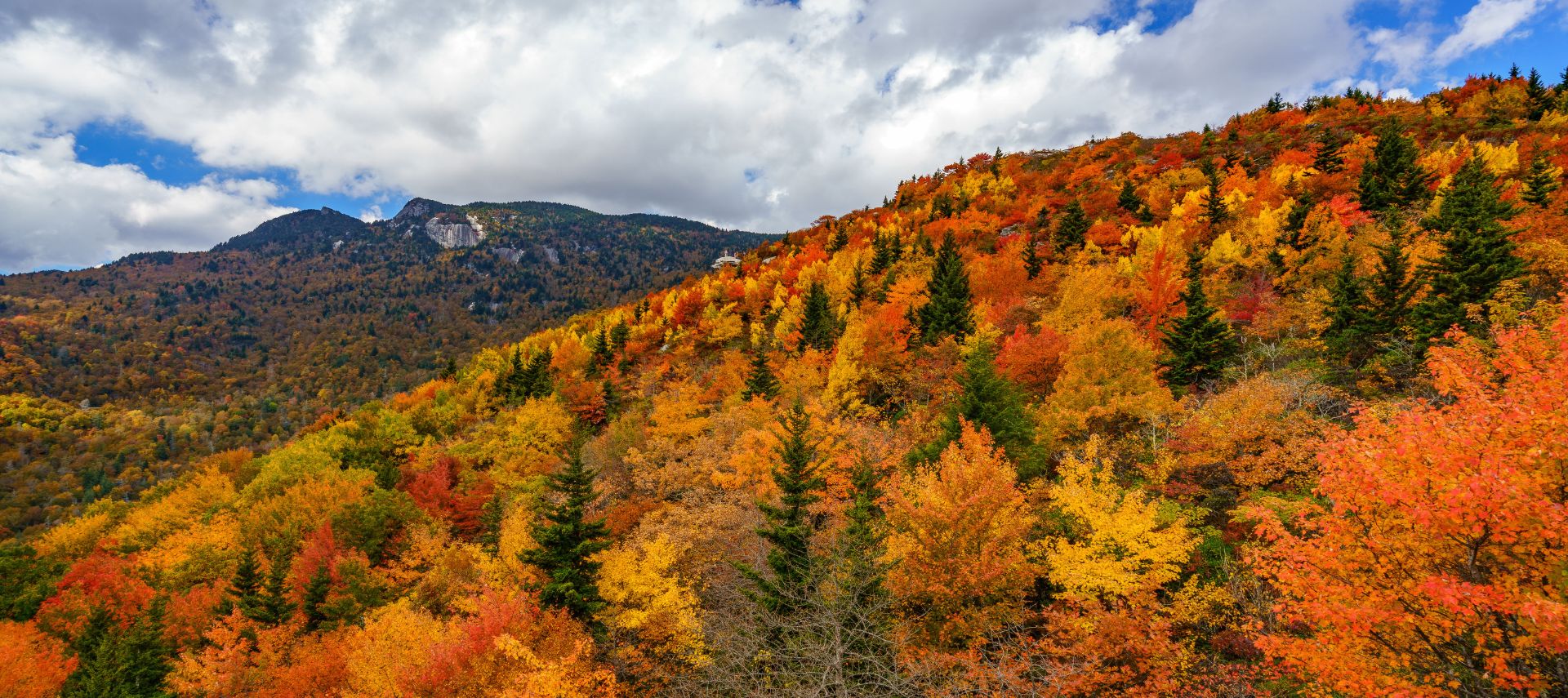 Fall Drives
What could be more fun than getting in your car, cruising along, and taking in the gorgeous foliage? Don't forget to stop at some of our fall festivals!
Hop on the Blue Ridge Parkway
There are several ways to get onto the Blue Ridge Parkway near Wildberry Lodge. If you are heading towards Asheville, there are several entrances.
I-26 — From I-26, take exit 33 to US 191 (Brevard Rd).  Take US191 South.  The Parkway access is about 3 miles down US191.  Just watch for the signs.
US25 (Hendersonville Rd) — US25 is the road to the Biltmore Estate entrance.   From I40, take exit 50A, and go south on US25.  The Parkway access road is located about 3 miles south of I-40.
From Waynesville NC — Head towards Sylva on Highway 74/23/441.  The Parkway access road will be on the right about 4.5 miles after leaving Waynesville.  This will bring you onto the Parkway at MP 443.1. on US25 or I46.
Head towards Great Smoky National Park
One of the most beautiful drives is along Rte 441! You can access it from here with a scenic drive to Lake Junaluska on Rt 40, with a stop in Maggie Valley. Make sure you pull over for any apple orchards or other stops that look interesting!
Rest and Relax
We have 5 miles of hiking trails right here on our 40-acre property. No need to get in your car! Order a picnic basket to take with you, or just enjoy it in your private cabin or suite.
Choose to soak in a Jacuzzi tub (available in most rooms) or stand under the soothing spray in a large shower. We also have an infrared sauna to help you detox and relax your sore muscles. Perhaps it's time for the nurturing touch of our massage therapists. Schedule an in-room massage and enjoy this soothing treatment in a safe, caring environment.
Take your choice! Maybe to you, a relaxing fall vacation in the Smoky Mountains means lounging in your room and soaking in the hot tub. Or maybe you want to get out and see more of the amazing color and fun activities available around us. Either way, we can help you plan to perfect retreat!
Updated September 2022