If you are a seasoned hiking enthusiast, then you probably already know that Western North Carolina is a hiker's paradise. The Blue Ridge and Great Smoky Mountain ranges feature some of the tallest mountain peaks on the East Coast, enhanced by acres of forests and thousands of miles of trails of varying difficulty. Our mountains are relatively easy to get to, with many access points right off the Blue Ridge Parkway. The 469-mile-long Blue Ridge Parkway serves as a "hub" or "trailhead," connecting quite a few trails and hiking areas. The Parkway also serves to reduce your travel time and distance in search of hikes. And (best of all) it's a short drive from your Blue Ridge Mountain retreat at Wildberry Lodge!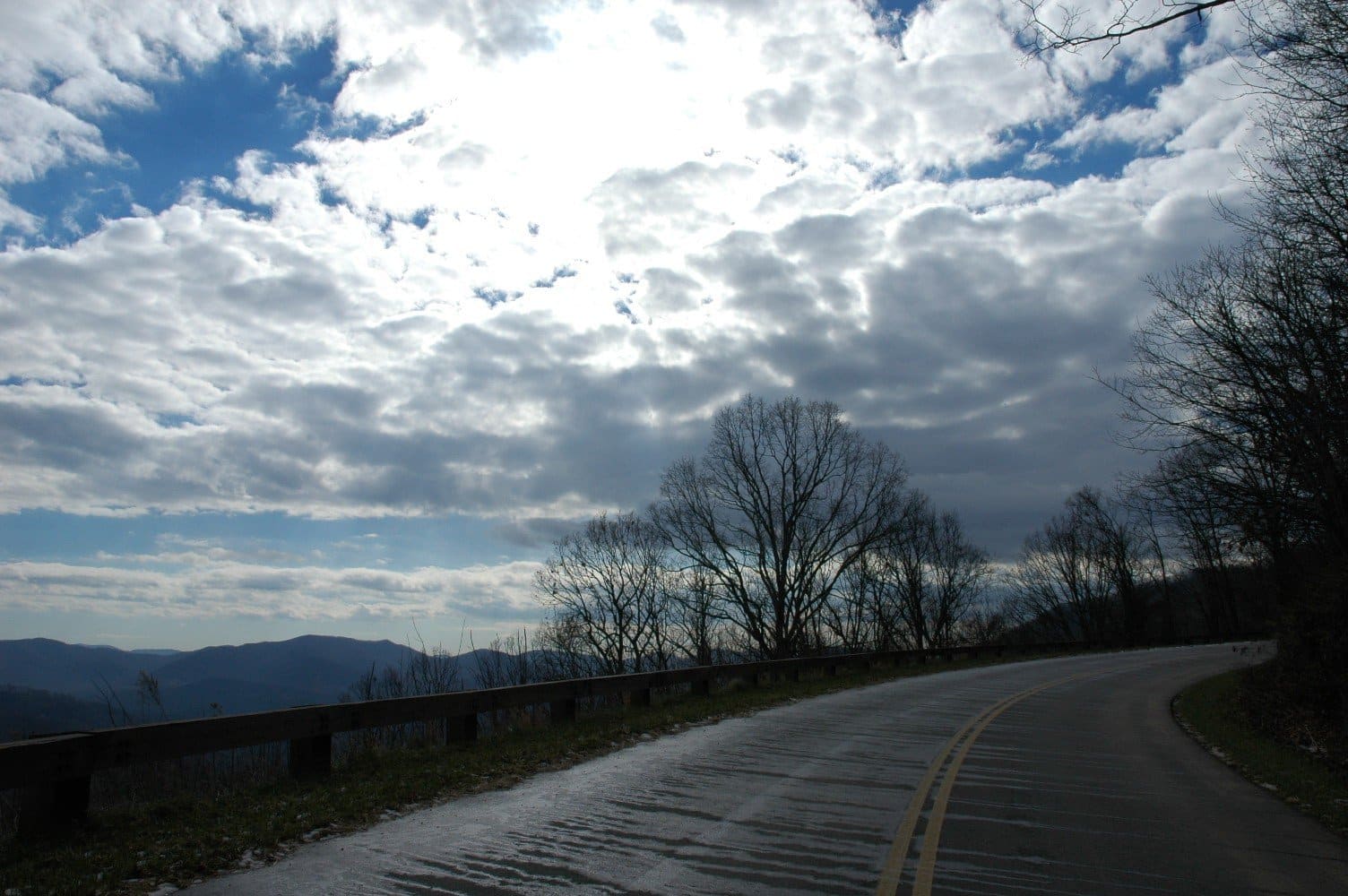 Your ideal starting point is near the The Blue Ridge Parkway Visitor's Center, located at milepost 384, just minutes from downtown Asheville. This point is within easy access to other popular outdoor attractions, including Mount Pisgah and the Pisgah National Forest, where several hiking areas are detailed below.
Bent Creek Gap
Milepost 405.5 – Elevation up to 4,100'
The Bent Creek hiking area is about 15 minutes from downtown Asheville, and includes a campground, mountain lake, and recreation area. Part of the original 1890 Shut-In Trail (SIT), constructed by George Vanderbilt (you know, that guy who built Biltmore), and the Mountain-to-Sea Trail (MST), Bent Creek Gap is a local favorite, with miles of trails of varying difficulty. The 2.5 mile Bent Creek Gap to Ferrin Knob is a great hike for exercise lovers.
Black Balsam Knob
Milepost 420.2 – Elevation up to 6,214'
This area features some dramatic treeless mountaintops, or "balds." The lack of trees on the mountaintop creates the illusion of being in the Alps. When hiking these trails, you'll encounter meadows, streams and waterfalls as you progress into Flat Laurel Creek Valley. Black Balsam Knob also acts as a transition into Shining Rock Wilderness as it's part of the 30-mile Art Loeb Trail.
Shining Rock Wilderness
Milepost 420.2 – Elevations over 6,000'
This is the largest wilderness area in North Carolina and is within the Pisgah Ranger District of Pisgah National Forest. The main access points for its trails are the Black Balsam area (Milepost 420.2), which is the most popular due to its range from easy to difficult; the intersection of Big East Fork Pigeon River and Highway 276; and the third, where the Shining Creek trail connects to the Art Loeb trail, with a difficulty level sure to please even the most experienced hiker.
Graveyard Fields
Milepost 418.8 – Elevations over 5,000'
Essentially a flat valley at 5,000 feet high, Graveyard Fields features a large variety of trails and loops ranging from easy to difficult, plenty of wide-open vistas, an agreeable climate trending towards cool temperatures, and… did we say waterfalls? The lower, or "second" falls (pictured below) is about a ⅓-mile hike from the Parkway parking spot; the upper falls is part of a 3-½ to 4-mile loop trail in the meadow. For those reasons and more, Graveyard Fields has become a highly sought-after recreation spot in Western North Carolina. Bonus: Graveyard Fields has the unique distinction of being one of the Parkway's rare hiking spots with restrooms!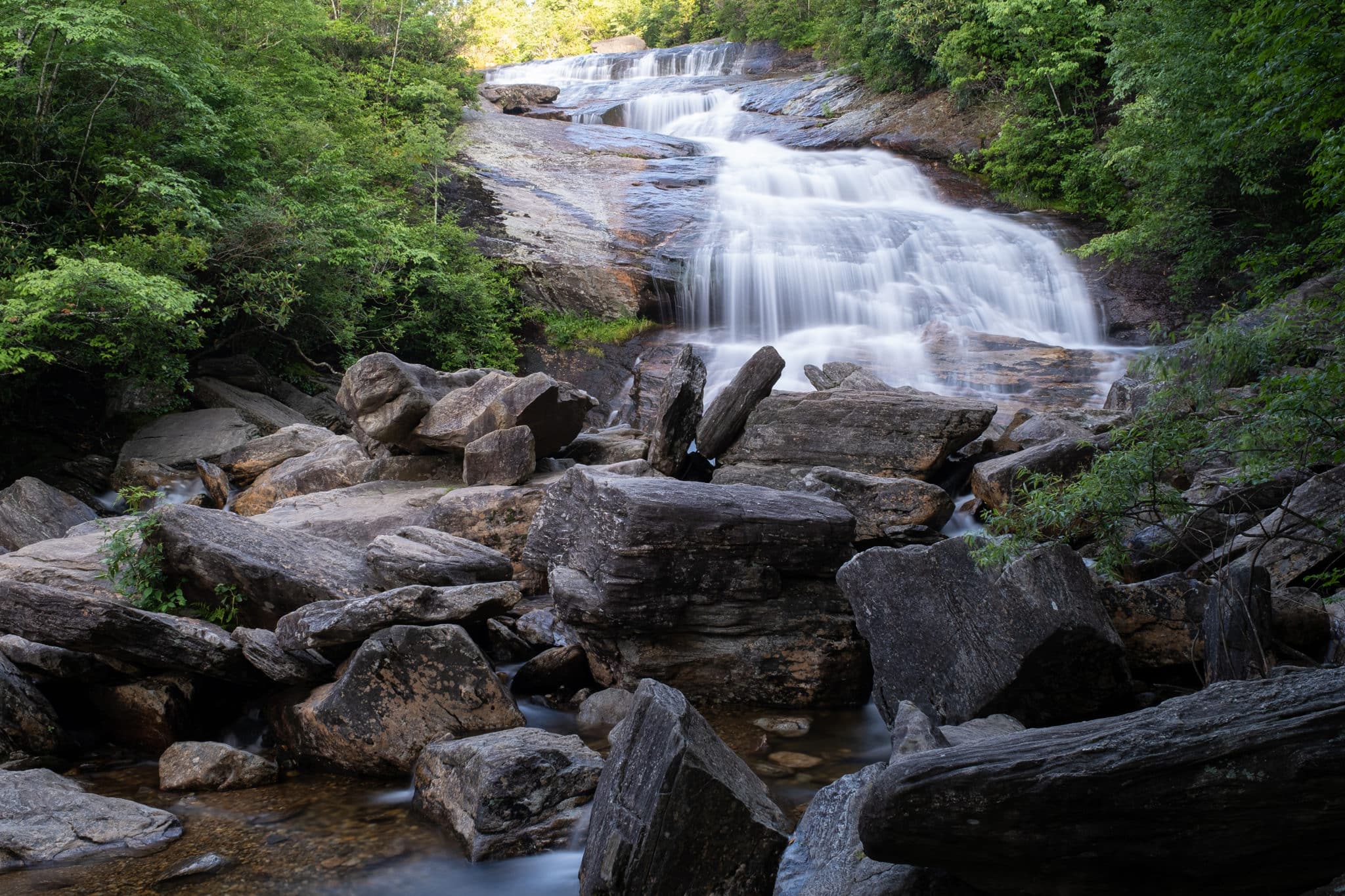 Mills River/Big Creek Trail
Milepost 406.8 – Elevations over 5,700'
The Mills River watershed area hosts the North and South Mills Rivers and is sandwiched between the Bent Creek and Davidson River areas. Due to the ruggedness of the area and terrain, and the general remote location, the Mills River trails tend to be a bit less traveled than others, but present a more than adequate challenge for the experienced hiker. The Big Creek Trail to Blue Ridge Parkway covers over 5 miles; the trailhead begins at Little Pisgah Ridge Tunnel on Blue Ridge Parkway.
In case you haven't had enough hiking, check out the 5 miles of hiking trails at Wildberry Lodge! We'll help you navigate the area safely, and provide you with an outstanding mountain lodge vacation experience. Relax on our deck with a favorite beverage and take in the breathtaking mountain views. Start your day with breakfast in your room or outside with more than 6′ between tables as per our COVID-19 policy. Check out our specials, book online or call us at 828-683-2525.