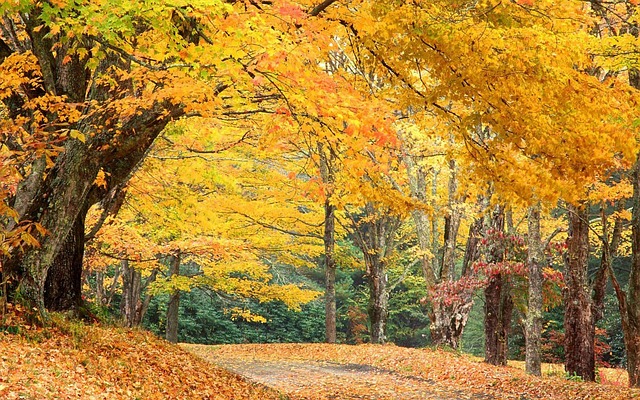 Mountains full of trees make Western North Carolina the most spectacular place to see fall colors. Anywhere in the Blue Ridge Mountains near Asheville will net you the visual spark you crave from fall foliage, but here are our favorite five places for leaf-peeping.
1. Chimney Rock State Park
Make your goal to get to the top of the rock, and along the way, the colors of autumn will amaze you. You'll also find a variety of trails and activities here as well, including the Animal Discovery Den and the Climbing Tower.
2. Dupont State Forest
Less than an hour from Leicester, you'll find Dupont State Forest. In addition to colorful fall foliage, you'll find waterfalls and lakes. Have your camera ready. Dupont experts say the third week of October is prime leaf-peeping time here.
3. Bryon City
When you get here, look for the Great Smoky Mountains Railroad (GSMR). This is always a scenic ride. Offering multiple routes, the train takes you through the mountains, by rivers, and over bridges. Check dates for special trains, such as the Peanut's Pumpkin Patch Express, the Halloween Dinner Train, and the Polar Express at Christmas.
4. The Blue Ridge Parkway
You don't have to drive all 469 miles of America's most scenic route to enjoy the splendor of fall. The miles are marked from one to 469, north to south, and miles 360 to 410 are near Asheville and provide ample opportunities to stop and explore. Glassmine Falls, Craggy Gardens, Mt. Pisgah, Folk Art Center, and our favorite, simply because of the name, Fryingpan Mountain Lookout Tower, are points within that 50 miles.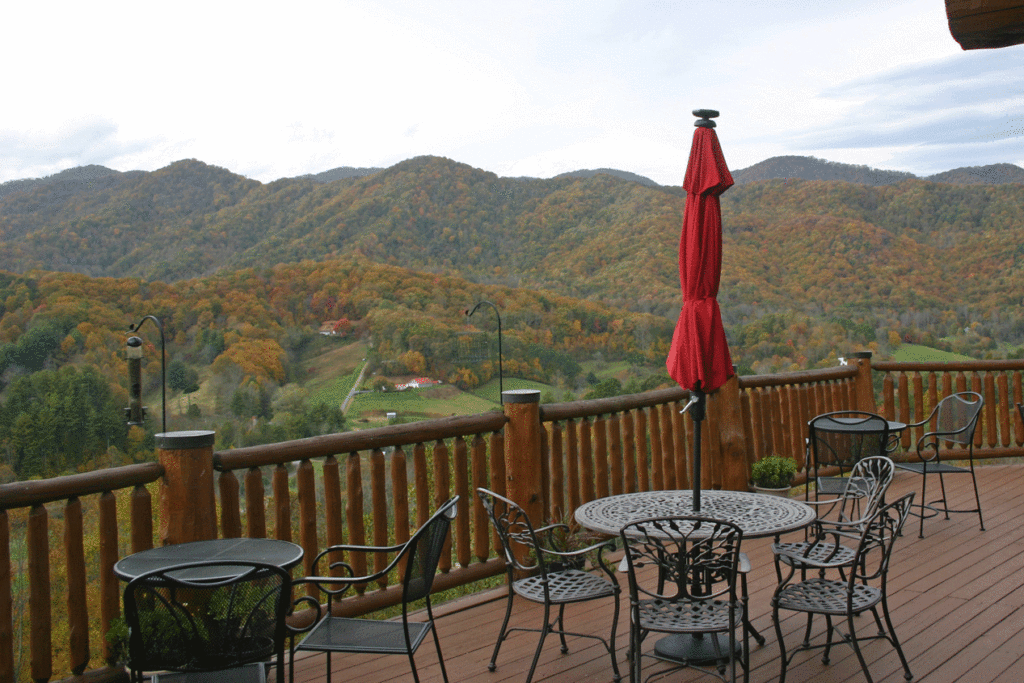 5. Wildberry Front Deck
This is our favorite. The Wildberry Lodge Bed and Breakfast's deck looks off into the tree-filled hills of the Great Smokies. Take in the riot of color as you sip some of the best coffee in the Southeast – if we do say so ourselves. Enjoy the view from the wraparound deck or from a private deck off your room. Watch the changes from sunrise to sunset. Be surrounded by fall with a walk on the two-mile trail around our property.

The SmokyMountains.com popular foliage map is predicting peak leaf-peeping for our area in late October, but some forecast suggests earlier. Make a bet and book your weekend now. Or plan a longer break. Remember, the leaves don't know to wait until the weekend, and we're here to provide you special service all week.