In the mood for a dip? Check out these beautiful hikes with swimming holes!
The beautiful Blue Ridge Mountains attracts thousands of people a year to hike our majestic ranges, enchanting balds and picturesque hillsides. We are known not only for the ama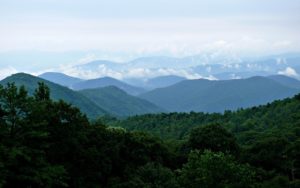 zing opportunities to spend time with nature but also for our balanced seasons. Winter is winter, Spring is spring, summer is summer and autumn is autumn, always.
It is a common misconception that due to our elevation (highest peak at 6,684 ft. with an average elevation around 2,500 ft.) we do not see high summer temperatures. Oh….I am here to tell you that we do, indeed. We average in the 80's in the summer but we definitely see the 90's too….although always low 90's and it never stays long. During our version of the "dog days" hiking can understandably feel more like a chore than a fun day excursion. This is where our swimming holes come in!
Nothing beats plunging into a refreshingly cold swimming hole after a vigorous hike that gets your blood flowing and covers you in sweat. It's such a great way to feel re-invigorated and get that reprieve from the summer heat. Here are some of the most loved hikes with swimming holes in the Asheville area!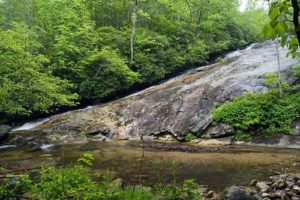 Harper Creek Falls is one I highly recommend. You enjoy an easy breezy 1.7 mile hike to the swimming area which is actually two small water falls with wading pools located at the bottom of each. The water is some of the most pristine and healthy water in all of North America. It is crystal clear and deceptively deep because of that. This is definitely well-loved by the locals and a guaranteed good time!
Chestnut Cove Branch Falls is probably the best spot to unwind. It's a little bit smaller than the other swimming holes but it's also much more remote which enables you to dodge the crowds. It's only an easy 1.5 mile hike to get there too! The depth of the water really depends on how much rain we've encountered lately, but even at its most shallow the water still reaches waist high. Chestnut Cove Branch is a part of the North Harper Creek and located in the Pisgah National Forest.
Sliding Rock is by far the most popular swimming hole in WNC! This is family friendly and costs $2.00 to go down the natural water slide into the swimming hole. And when I say it's popular, I mean it. On a busy summer day upwards to 2,000 people can visit from the early morning until sunset.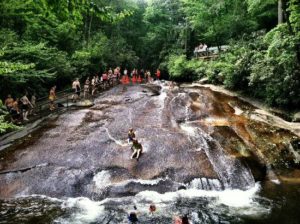 You can check out all sorts of fun YouTube videos watching people slide down. It's definitely a fun experience and sure to give you great memories!
Way over to the west of Asheville, Lower Falls Slickrock straddles the state line. This is a great place to go for the more serious of hiking enthusiasts. The 17,000 acres include 55 miles of remote hiking trails. Lower Falls and the swimming hole it creates are about 3 miles into the forest on the Slickrock Creek Trail, making for a moderate 6-mile there-and-back hike. There's also a 6.4-mile loop option. The 15-foot-tall falls drop into a deep hole that benefits from a break in the forest canopy. Sun warms the mountain water and the rocks along the bank.