Crustless quiche with feta and pepper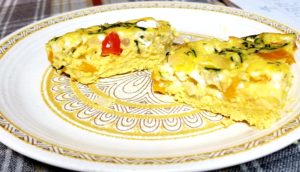 I was rummaging through my fridge this morning in a hangry panic (hungry and angry) and had nothing prepared for breakfast. I didn't want to take the time to make anything elaborate or involved since I was still tired and grumpy. We all have those mornings where the coffee has not quite kicked in and we still have half our bodies in bed but the demands of life are keeping us up! I ended up totally winging it and threw some ingredients that I had on hand to make a quick and easy quiche.
It came out amazing. I think it's so easy to think of foods like a quiche as something that requires skill to make or that has an involved amount of steps. Truth be told, many of the recipes out there are just that….involved! This recipe is super quick, fluffy and tasty and most importantly…..IT'S EASY.
This is also a very healthy recipe! It's not overloaded with gobs and gobs of cheese and milk yet it is still fluffy. The brined feta salts the dish without any need for extra sodium. This is low carb and savory! Plus, you get some veggies too!
Crustless Quiche with Feta and Peppers
(For this recipe I used an 8 inch circular baking dish)
Ingredients:
6 eggs, whisked
Half of one onion
1 orange or red bell pepper
3 oz brined feta
Fresh chives
Fresh thyme
Directions:
Pre-heat oven to 350 degrees F
Grease baking dish and add whisked eggs
In a skillet, sauté onion and pepper until slightly tender
Add onion mixture, coarsely chopped fresh herbs and feta into baking dish and stir around
Place in oven uncovered for approximately 20 minutes. The middle will lift and be firm when done.