December 5, 1933 marks the repel day of when the 21st amendment was ratified. Today we remember the "dark days" by celebrating the lift of prohibition exactly 84 years ago today.
The origin of cocktails dates back to the 17th century. Interestingly enough (and ironically), the rise in popularity of cocktails stems from the prohibition era! Since manufacturing facilities met their demise and it was illegal to produce or sell alcohol, lay folk with little knowledge in brewing and distilling attempted the process themselves. Most of the time this was an extremely inferior product and at times a dangerous product. It is thought that at least 1000 people died from botched and/or contaminated batches during prohibitions reign.
Speakeasies would hide the taste of the inferior alcohol by way of cocktails! It enabled people to enjoy a stiff drink without cringing over the quality. Nowadays we get the best of both worlds, of course! We get premium brews blended with quality ingredients and the knowledge of a person with passion for their craft.
Here are 5 winter inspired cocktails to warm you from your toes to your frost bitten nose!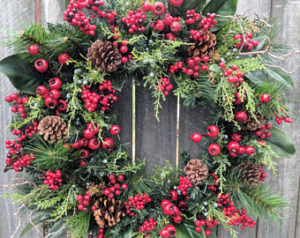 Pine Infused Christmas Negroni
Honestly, this iconic cocktail feels festive enough in its own right; however with just a dash of pine simple syrup and a couple cloves it elevates it to the North Pole and tastes like Christmas in your mouth.
50 ml Campari
50 ml sweet vermouth
50 ml dry gin (opt for good quality like London)
25 ml pine simple syrup
Ice to serve
2 whole cloves
1 cinnamon stick
Directions- Shake Campari, vermouth, gin and pine syrup in a cocktail shaker then pour over ice. Toss the two cloves into the drink and stir it around with the cinnamon stick.
Honey Bourbon
For the Syrup
½ C honey
½ C water
2 fresh sprigs of rosemary
Honey BourbonCocktail
2 ¼ ounces Bourbon
4 tsp Rosemary honey syrup
2-3 dashes Angostura bitters
Ice
 1 orange peel
1 rosemary sprig
Combine Bourbon, simple syrup and bitters into a cocktail shaker. Shake and pour over ice. Twist the orange peel over the cocktail and garnish with a sprig of rosemary.
Chai Spiced Rum
Adapted from Saveur, Serves 8
8 bags black tea, paper and string removed
8 green cardamom pods, crushed
8 whole allspice berries, crushed
8 whole black peppercorns, crushed
8 whole cloves
3 star anise
2 whole cinnamon sticks
1⁄2 whole nutmeg, chopped
1 (2″) piece of fresh ginger, peeled and thinly sliced
1 vanilla bean, split and scraped, seeds and pod reserved
6 cups hot water
6 cups unsweetened almond milk
1⁄3 cup honey or agave
1 cup spice-forward rum
Make the chai: In a 4-quart saucepan, combine tea, spices, ginger, and vanilla bean seeds and pod with 6 cups hot water. Bring to a simmer over medium-high heat and add almond milk (or milk of choice) and honey or agave, whisking to combine. Return to a simmer, remove from heat, and allow to steep 10-15 minutes. Strain through a fine-mesh sieve or cheesecloth-lined strainer, pressing down on solids to extract flavors.
Transfer the chai to a heat-proof serving vessel (like an earthenware pitcher) and stir in bourbon. Alternately, ladle chai into 8 individual mugs and portion 1 oz. rum into each.
Solstice Moscow Mule
Caution: This mule has a powerful kick!
             Cocktail
2 ounces bourbon
1 ounce Pimm's No.1
1/2 ounce cinnamon simple syrup (recipe below)
4 ounces ginger beer
Lime wedge for garnish
Cinnamon stick for garnish
Add the bourbon, Pimm's No.1, and simple syrup to a cocktail shaker. Add a handful of ice to the shaker. Give the mixture a few vigorous shakes.
Transfer the mixture to a copper mug filled with crushed ice. Top with ginger beer. Garnish with a lime wedge and cinnamon stick.
Syrup
1/2 cup turbinado (raw) sugar
1/2 cup water
6 cinnamon sticks
Add sugar and water to a saucepan. Bring the mixture to a gentle simmer; continue to simmer, stirring occasionally, until the sugar dissolves.
Take the saucepan off the heat and add the cinnamon sticks. Cover the pot and allow the mixture to sit overnight. Strain the mixture. Transfer to an airtight container and store in the refrigerator for up to 1 month.
Winter White Sangria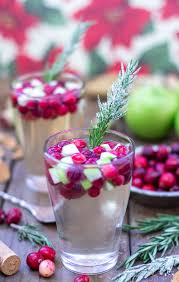 2 Granny Smith apples
1 heaping Cup Fresh cranberries
1 large Sprig rosemary
1 bottle dry Pinot grigio
½ cup white grape juice
¼ cup sugar (more, for garnish)
1 can club soda
Chop up apple and then place all of the ingredients into a large pitcher, preferably already chilled but it is not necessary. Stir well until the sugar dissolves then place into the fridge to chill and settle for about an hour or until you just can't take it anymore and have to have a glass! No one is judging. Garnish with fresh rosemary. You can make the rosemary even more festive by dampening the sprig then dusting it with sugar to give it a frosted effect.