One of the 13 original colonies, North Carolina is a bastion of variety, surprises, and contradictions – both in nature as well as in philosophy. It might surprise you to know that despite our prominent mountainous terrain, North Carolina is actually one of the "wettest" states in the US, with tons of marshlands and lakes, including 13 lakes in Western North Carolina (WNC) alone. What else makes the western part of the state so interesting? Let's explore 5 fun facts about North Carolina.
Fun Fact #1: Bald Eagles Return to North Carolina

A longtime member of the endangered species list, as of 1983, there were no documented bald eagle nests in the entire state of North Carolina. And as of 2007, there were three known nests across WNC. Fast forward to today, and we now have approximately 30 documented eagle nests across our region, including the "bald" residents who nest at Lake Junaluska in Haywood County. Per U.S. Fish & Wildlife Bald Eagle Management Guidelines, there is a 600-foot buffer around active eagle nests, but you can responsibly observe these birds without disturbing them or their nest.
Fun Fact #2: Sycamore "Moon Trees" from Apollo 14
On January 31, 1971, Apollo 14 finally launched. This mission was memorable for several reasons, one of which was that it was to have originally launched in 1970, but was delayed by the investigation of the now infamous Apollo 13 mission ("Houston, we have a problem"). Commander Alan Shepard, at age 47, was the oldest astronaut to walk on the moon, and he also famously hit two golf balls on the lunar surface. The three-man crew (Shepard, Edgar Mitchell and Stuart Roosa) carried 400+ tree seeds. Why? Scientists wanted to know whether the seeds would be affected by their time in microgravity. After 34 orbits around the moon, back on Earth the seeds were planted in the US and around the world. Two sycamore trees from these seeds were planted here in North Carolina – one sycamore is in the Cradle of Forestry at Pisgah National Forest near the Forestry Discovery Center and is marked with a plaque. The other sycamore tree, planted on Arbor Day in 1976, is at UNC Asheville's Botanical Gardens.
Fun Fact #3: Hendersonville's Blue Ghost Fireflies
Fireflies, aka lightning bugs, are a fairly common sight all across the US, especially in summer when they provide a welcome diversion from the heat. Here in North Carolina however, we have the "mutant" version: the Blue Ghost firefly. The females of this version don't fly. And you're probably thinking, "well, if a firefly doesn't fly, what good is it?" Maybe our "gals" can't fly – but they do glow a lovely blue-green hue instead of the pale yellow of regular fireflies. They are a rare breed, and their numbers are declining, However, you can still see them in Hendersonville at DuPont State Recreational Forest near Cedar Mountain.
Fun Fact #4: Super Bowl LV – The "Carolina Connection"
This year's Super Bowl pits AFC champs the Kansas City Chiefs versus NFC champs the Tampa Bay Buccaneers. Of the top 10 colleges and states represented on NFL rosters, neither North Carolina nor any of its colleges appear on the list. But the "Carolina Connection" will be represented in the Super Bowl on both teams:
Kansas City Chiefs: The Chiefs' lone representative from North Carolina is a good one-Daniel Kilgore, #67, Center who matriculated right here in Western NC at Appalachian State in Boone, 90 miles NE from Asheville!
Tampa Bay Buccaneers: The Bucs represent North Carolina quite well, with 4 players who attended college in the state: Ross Cockrell, #43, Cornerback, Duke University in Durham; Ted Larsen, #62, Guard, NC State in Raleigh; and two from NC Central in Durham: Ryan Smith, #29, Cornerback, and Nick Leverett, #60, Guard. Our state is also represented in the coaching ranks of Tampa Bay, with Quarterbacks Coach Clyde Christensen, who played at North Carolina (1977-78), and Inside Linebacker Coach Mike Caldwell, who played in the NFL for the Carolina Panthers (2003).
Fun Fact #5: Linville Gorge – "Grand Canyon of the East"
There are just 2 gorges in the Southeastern US, one of which is right here in Pisgah National Forest, Linville Gorge. A 12 mile segment of the Linville River-including Linville Falls- drops downward more than 2,000 feet in the Gorge, leveling off at Lake James. A popular destination for hikers, campers and the outdoorsy set, the Linville Gorge also showcases a very diverse habitat with abundant wildlife and plant life.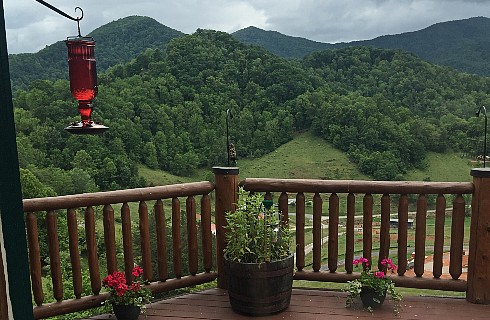 Just minutes from both the Blue Ridge Parkway and downtown Asheville, Wildberry Lodge offers all the comforts of traditional hotels with the welcoming feel of a private home. Spacious, well-appointed guest rooms with plush, comfy chairs and beds and luxurious private baths await. All rooms enjoy tranquil views of lush greenery and our spectacular mountains. Check out our specials and book online.