Wildberry Lodge and our greater Asheville area are part of the region known as Western North Carolina (WNC), which spans nearly 11,000 square miles. Our vast size is comparable in size to the state of Massachusetts, which almost makes us a state within a state, and offers an incredibly diverse area of 3 distinct mountain ranges: high country, foothills and valleys. In this space, we have successfully blended agriculture, technology, arts, cultural and higher education centers, and a host of culinary experiences ranging from backyard barbecue to high-end dining. We also are home to a variety of obscure, strange and inexplicable features that offer wonderfully weird and wacky things to do in Western NC.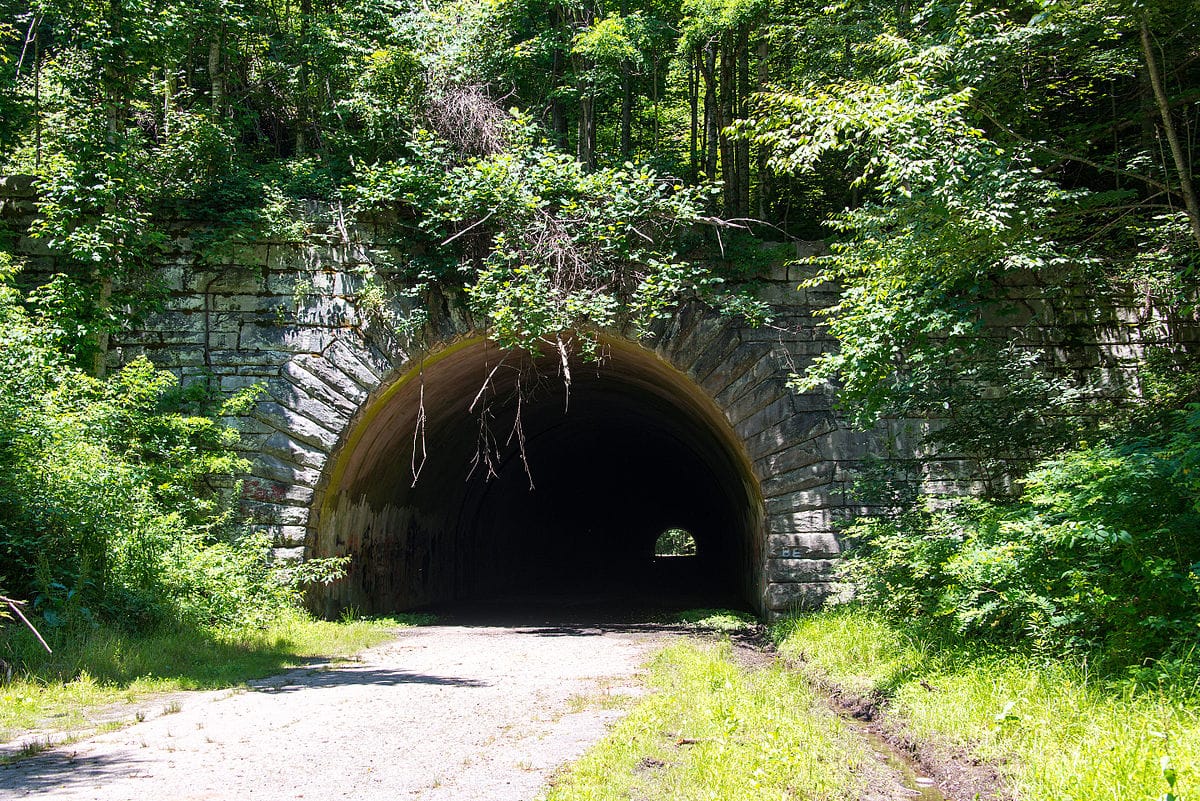 We're On The Road To Nowhere
What do you call a $52 million dollar dead-end in Bryson City, NC? Step into our "Way-Back" machine, way back to the 1940's when the Tennessee Valley Authority built the Fontana Dam and Fontana Lake along the Little Tennessee River. To placate the communities that had to be relocated during dam and lake construction, the federal government proposed a new 30-mile road from Bryson City to Fontana through the new Great Smoky Mountains National Park. Fast-forward 30 years to the 1970's, and… a 7-mile portion of the road had been built. That's as far as it got as environmental issues stopped construction dead in its tracks. A $52 million dollar settlement was reached with the Department of the Interior, North Carolina and Swain County. The road? It sits as it has existed for decades, seven miles of completed road in the middle of Great Smoky Mountains National Park. The road doesn't even make it to the entrance of a tunnel. It truly is a road to nowhere… but with a silver lining – The Fontana Dam.
The Fontana Dam
This just happens to be the tallest dam in the Eastern United States, at 480 feet, and visitors are welcome. The Fontana Dam Visitor Center is open April through August, from 9am to 7pm, and September through October from 9am to 6pm. In addition, what was once the dam's construction village is now a resort offering recreational activities such as boating, horseback riding and crafts making. The Appalachian Trail crosses the top of the dam, making it a popular hiking spot.
The White Squirrels of Brevard
Yet another wonderfully weird and wacky WNC attraction, local legend tells the tale of a 1940's carnival wreck in Florida, resulting in the migration of a white, not grey, cousin of the Eastern tree squirrel to the WNC wildlife habitat. These white squirrels made their home in Brevard, and are particularly fond of the Brevard College campus where they frequently can be seen "dining." The squirrels are so popular they even spawned the creation of an annual festival during Memorial Day weekend, The White Squirrel Festival. Although postponed for 2020, the town hopes to resume the festival for 2021.
Santa's Land
Apparently, Santa does not reside exclusively at the North Pole. During the spring, summer and early fall, he "winters" in WNC, specifically at Santa's Land Fun Park & Zoo, near Cherokee, NC and the Great Smoky Mountains National Park. Open daily from mid-May through October, Santa's Land has entertained thousands of families for over 50 years. Just one low admission price gives everyone access to the entire park, the zoo, rides, shows – and of course, Santa himself, Mrs. Claus and all the elves. Santa's Land will reopen May 15, 2021.
Our Very Own International Biosphere Reserve
Say what? Towering 5,946 feet above northwest North Carolina, the 300-million year-old Grandfather Mountain in Linville also functions as a protector and habitat for numerous distinct ecological communities and over 70 rare or endangered species. This notable feature led to Grandfather's selection in 1992 by the United Nations Educational, Scientific and Cultural Organization (UNESCO) as a member of the international network of Biosphere Reserves. Even though Grandfather is not the tallest mountain in the Eastern US (Mount Mitchell takes the crown at 6,684 feet), a unique optical illusion makes it appear taller than neighboring peaks due to the angle and way it breaks out of the landscape. On a clear day, the skyline of Charlotte is visible even at 160 miles away.
Immerse yourself in the wonderful uniqueness that is Wildberry Lodge, which sits 2,700 feet atop the mountain! Located just 12 miles from Asheville, you will enjoy a retreat with one-of-a-kind views, luxurious guest accommodations, and genuine hospitality. Our breakfasts are homemade goodness that will sweeten your culinary experience. Come savor the mountains with us. Book online or call 828-683-2525.