Asheville is always vibrant, but it actually vibrates on Friday nights with a community drum circle. From April through October, that thump, thump, thump you hear is the city inviting visitors and residents alike into its circle. The community is affirmed and connected by beating on their drums, dancing, or just watching.
Ancient Rituals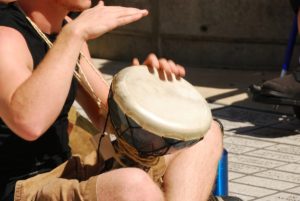 Just watching and listening to the drum circle can be amazing. There's no facilitator or guide. You will see no cues to change the beat, rhythm, or speed; it just happens. And it usually sounds like music, the kind of music you can feel in your soul. A variety of drums—congas, bongos, tambourines, pots—make up the joyful cacophony.
As a city rich in the arts and holistic cultures, it's not surprising that a drum circle thrives in Asheville. Drums have been a part of history from ancient times with every culture seeming to have some form of drumming. They've called people together, been a communication tool between villages or areas, scared off animals, helped in healing, and been part of sacred rituals. They are used by men and women, young and old.
Medical Benefits
Drumming has seen an increase in popularity as research has shown its benefits for health and wellness. Drumming apparently helps boost the immune system, accelerates healing, and lowers blood pressure. It reduces tension and relieves stress and anxiety, allowing bangers to let go of negative feelings. It opens up space for connecting with oneself, and even in a group it still "provides a medium for self-realization" while allowing community connection. It might even make you smarter.
As proud owners of an authentic Sioux-style teepee, a drum circle would be a fitting event at Wildberry Lodge. That's one idea for the use of our teepee. Do you have any suggestions? Would you like it to be part of your own music therapy and self-care? We find the mountains and our bed and breakfast to be the perfect place for that. Reserve a room and see for yourself.