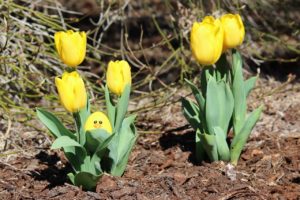 Spring has sprung ladies and gentlemen and there is no better symbol to mark it than with the happy celebration of Easter. All over Asheville we have Easter festivities and traditions that help lift the spirits and say goodbye to that dreary winter weather once and for all! I've got the scoop on all the best places for Easter brunch, egg hunts and flowers galore to make your Easter a memorable event. Perhaps we could make Easter memories like the Greeks in Corfu who all throws dishes and earthenware pots out of their windows and smash them into the streets! No? Too memorable? Too messy? OK, let's stick to flowers and bunnies then!
The Biltmore Estate rules the Easter merriment around these parts and for good reason. They have the most amazing display of tulips with such a beautiful array of color that their gardens look like the poster child for Easter. Add to that the vibrantly spacious green lawns and the majestic Biltmore Estate as the backdrop and you have yourself the perfect setting for Easter. The big Easter Egg Hunt is on Sunday, April 21st and is from 9am to 2:30pm and you can get your picture taken with the Easter Bunny. After the hunt you can head on over to Antler Hill Village to dine and/or enjoy more festivities such as live music, rolling in giant bubbles, sheep herding or my personal favorite… grape stomping! Sounds like so much fun, right?!?!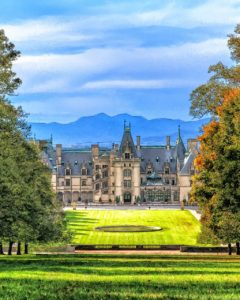 Easter on the Green is our annual downtown Asheville event sponsored by our very own Ingles Supermarket. This event is on Saturday, April 20th from 2pm to 5pm in Pack Square. The festival is FREE with age specific hunts coordinated throughout the day and free photos with the Easter bunny. I sure do love it when I see the word FREE!
All this egg hunting and grounds walking sure can rev up the appetite. I asked around and took votes for the best places for brunch in downtown Asheville and the Biltmore District during this holiday weekend and the verdicts are in! Posana Café and the Market Place were said to be the places for brunch and lunch in downtown. Posana excels at southern Americana cuisine and is conveniently located at 1 Biltmore Ave. Here is a quick link to their delicious brunch menu.
The Market Place is a farm to table Americana restaurant with a focus on Appalachian food culture. On Saturday and Sunday they are open from 10:30am to 2:30pm for brunch. Here is a quick link to their brunch menu!
Now we head over to the Biltmore District to the Corner Kitchen. The Corner Kitchen is a beautiful restaurant in a Victorian cottage with a lovely outdoor patio. The aesthetics alone are enough to bring people here but let me tell you that the food meets the ambiance! Here's a quick link to their brunch menu that starts at 11:30am and ends at 3:00pm.
Wherever you decide to go, be sure to book your stay at our Wildberry Lodge, located just 15 minutes outside Asheville. Here you'll find comfortable and luxurious lodging, warm hospitality, and stunning views!