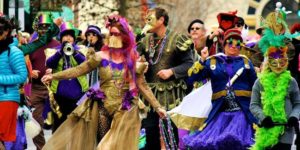 Mardi Gras, or Fat Tuesday, is a fun carnival celebration of food (traditionally fatty food) where jollification takes place before the first day of lent. People from all over the world get that last chance to allow your body one last hurrah before entering into the 40 days and 40 nights of fasting and temperance.
These days, most folks do not seem to focus on the more religious aspects of this holiday event that spans throughout February and even March. When you think Mardi Gras, you don't usually think of abstinence and faith, you think of parades and people dancing around with colorful costumes and face paint, hula hoopers and beads, beads, beads! Yesssss, the fun part of Mardi Gras! Here are some animated and playful ways to celebrate Mardi Gras in Asheville this year. Come stay with us at the Wildberry Lodge and celebrate in style like a pro!
If you are looking for some yummy fun then head on over to the up a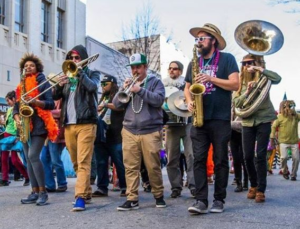 nd coming South Slope of Asheville for the Cajun Cook-off! This year the cook-off will be held on February 17th at the Salvage Station. A gathering of twenty novice and professional chefs get together to face off in a delicious battle of the palate. You get three vouchers to go around and sample any chefs creations you are interested in, all Cajun themed, and vote on who you think nailed the iconic Creole cuisine. After the winner is announced you can dance off those calories while listening to the traditional Acadian music! Sounds like a great time to me!
The Queens Ball and Parade will be held on March 3rd of this year. You don't have to go all the way to New Orleans for some Mardi Gras fun. Asheville has you covered! We celebrate in a spirited and zany way where families and children are more than welcome (and encouraged) to join in! We do all the eccentric Mardi Gras stuff without the nudity and drunken lewd behavior. There's a time and a place for that but it's not in during the Asheville Mardi Gras parade. Join us for the colorful festivities and enjoy a wee bit of political satire, amazing displays and parade floats, dramatic costumes and upbeat music! The parade starts at 3pm and will fill the streets with revelry. After the parade, follow the crowd over to the Queens Balls for additional fun!