Where the Wild Ones Roam 2.0
Animals fill our hearts with a special one-of-a-kind love. Recently I adopted a cat from the animal shelter and she has already brought such a tremendous amount of joy to my son and I's life. It's no longer just the two of us, we have Agatha now and she has made our little family feel fuller than ever.
Last year, I wrote Where the Wild Ones Roam and introduced to you the four legged friends of the Wildberry Lodge. Much has changed since then. Our hearts broke when we had to say goodbye to our beloved Chloe. A dog that was just so unbelievably happy all the time and put a smile on everyone's face that met her. We miss her dearly every day but take solace that she is running around and playing with Sassy now and that they have each other and are not alone.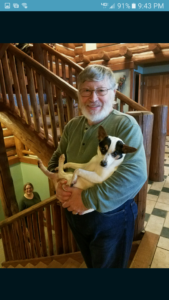 Since then we have taken in not one but two new dogs to add to the wonderful Wildberry family. Remember how I likened the Wildberry lodge as a sanctuary? As a beacon for those who are in need, human and animal alike, for retreat and healing? Well, that beacon shined brightly this year, indeed. Without further ado, allow me to introduce to you the newest additions to our crew!
Shredder-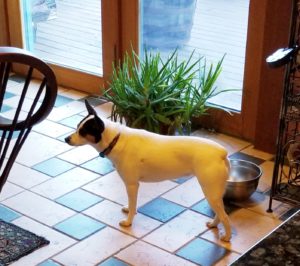 This pistol of a pup must have seen the light of sanctuary boldly glowing from afar and knew that this is where she needed to be. She moseyed on up one morning after breakfast and wouldn't come to anyone but Ken. Ken scooped her up, brought her inside and introduced her to Glenda. They fell in love. And that was that. And it probably does not take much imagination as to how Shredder got her name! She was literally shredding paper.
Beau- Husky mix
Now here is one strapping young fella of a dog. Ken and Glenda took him into their home after a desperate phone call to save him from going to the pound. It took what can only be described as a relay race (Beau was the baton!) to get him from Georgia to the lodge. After a very brief adjustment period with Cosmo where she had to explain to him where he was on the doggie totem pole (the bottom, in case you were wondering) they are now getting along wonderfully. He is such a great addition. He is loving, friendly, agreeable and listens well too!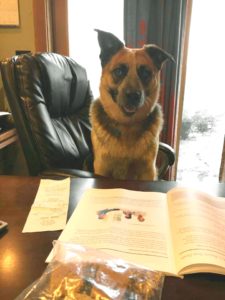 We are so luckily to have such wonderful animals in our lives! They make our hearts full! And remember, even though we cannot allow guests to bring their pets to the lodge we still want to see them! So don't forget about our Sassy's Dog Days Discount! Bring us a picture of your dog or cat for the scrapbook and you'll get $75 off any 3 night stay!