The different angles that spa's are taking on these days is very interesting. Wake Foot Sanctuary is no exception. At first, the name Wake Foot Sanctuary kind of made me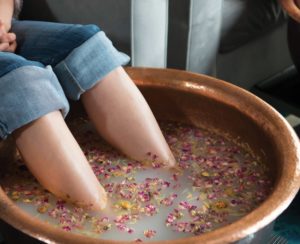 scratch my head. What exactly is a foot sanctuary anyway? Is it place for my worn out feet to take refuge from the daily trudges of life? Because that's what a foot sanctuary sounds like to me and as it turns out, yes, it is exactly that….but more.
Wake Foot Sanctuary creates a relaxing and soothing environment where you are "guided into an indulgent foot soak for a mini escape with a lasting impression". They offer an impressive number of luxurious and artisanal foot soaks with optional massages to be added on to increase the relaxation of your soak. This is a fabulous place!
Just take a look at some of their signature hand-made soaks!
Old No. 9 $25
Wintergreen and rosemary team up with our signature Wake salts for a stimulating yet soothing treat that will leave you feeling anything but weary!
Highly emollient, aromatic, and sensual. Lavender, jasmine and detoxifying rose salts.
Green tea, lemongrass and avocado oil come together for an energizing yet nourishing soak. Breathe deep.
Super moisturizing citrus ginger with shea butter, herbal, carrot and neem oils.
What surprises me most about this innovative take on a spa experience is how affordable the price is for the value of what you are getting. You can add on massages for either 20 minutes or 40 minutes. 20 minute massages range from an additional $30 to $36. The 40 minute massages range from an additional $60 to $72. The combo's offered are Foot and Lower Leg, Hand and Lower Arm or Head, Neck and Shoulder.
Wake Foot Sanctuary is the perfect place for a mini escape or to get your inner Aphrodite on. Check it out!