The Wildflower Pilgrimage is an annual event celebrating the beauty and mystery of nature through fun and interactive educational outreach programs. It received its endorsement from the Great Smokey Mountain National Park (GSMNP) in 1951 and thus became one of the most honored and anticipated traditions in the area.
This 2018 event kicks off on April 24th and lasts through April 28th and marks the 68th year of people coming from all over the country to celebrate nature in her season of renewal. With nearly 150 tours at your disposal you will not be bored! The tours are done through walks, art classes, seminars, photography tours and motor tours. They also covered an enormous range of topics! 25 programs are about birds, 59 are about wildflowers with the most popular being Wildflowers on Chestnut Top Trail. You can expect to learn about ecology, the cultural and natural history of the region, wildlife like bear and elk, fungi, mosses and just about everything relating to nature under the sun!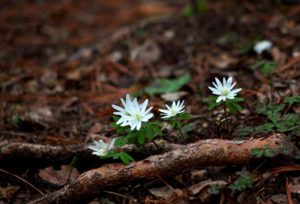 PRICES
Adults are $50 for one day and $75 for two or more days. Students are $15 for one or more days with verification at on-site registration. Children 15 and under free when accompanied by registered adult.
Location
The Pilgrimage headquarters are held at Mills Conference Center in Gatlinburg, Tennessee. If you have any questions about the event you can contact Joey Shaw at the Department of Biology, Geology, and Environmental Science at joey-shaw@utc.edu.
http://www.wildflowerpilgrimage.org/uploads/1/0/3/0/103013314/2018swpbrochurefeb29.pdf Check out this link to their beautifully illustrated brochure for more information and an in-depth look at the classes and walks offered.
http://www.wildflowerpilgrimage.org/uploads/1/0/3/0/103013314/wfp_registration_tips_2018_feb29.pdf This link gives you great tips on how to register to make your entrance and experience seamless.