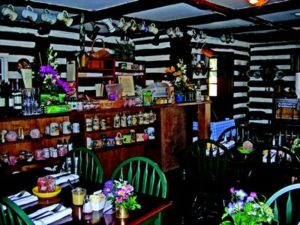 One of the best things about winter time is enjoying comforting and hardy food and I cannot think of any kind of food that is hardier than German food. They take 1st place for their showmanship of the thickest stews, home baked breads, coffee cakes and deeply satisfying beers.
For a taste of Deutschland, head on over to the Bavarian Restaurant and Biergarten. We are home to only a small handful of German restaurants but this one hits it on the nose for being and looking the most authentic. The adorable little cottage is adorned with every cliché andtraditional knick nack that one could dream of. It really sets the mood for an enjoyable experience unlike any other.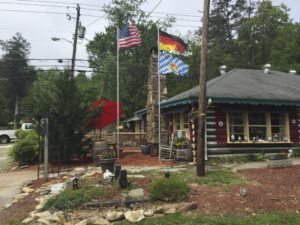 The menu is simple and very German. They are moderately priced with a menu that can get expensive or stay on the cheaper side of things if that is what you need. Here's a little sample menu for you!
Bavarian Herring Boat $8.50- Fresh herring
Fillets marinated in champagne, vinegar & spices, mixed with apples, onions, Himalayan salt, pepper, sugar, & sour cream.
Pot Luck Bratwurst Sampler $9.50- Sautéed with sweet onion gravy, served with our crusty German bread & herb butter.
Knödle $3.50 – German potato dumplings with onion gravy.
Kartoffel Puffer – (2 pancakes $4.00 / 5 pancakes $8.00)
Käse Bratwurst (Cheddar Cheese Sausage) – Wonderful Sharp Cheddar is added to this lean pork sausage to satisfy the pork & cheese lover.
Knoblauch Bratwurst (Garlic Sausage) -A scrumptious spicy lean pork sausage, with fine herbs & fresh garlic.
Puter Bratwurst (Turkey Sausage)- $12.95 Mildly spiced turkey sausage. This rivals our traditional German made in-house Bratwurst.
Bavarian Pork Chops – $12.95 Lunch / $21.95 Dinner
Lightly breaded, boneless pork chops, pan-seared & served with onion demi-glace.
Braumeister – Gulyas (Goulash) – $12.95 Lunch / $21.95 Dinner
Sautéed pork tips & onions in a spicy paprika sauce.
Drunken Bavarian Chicken – $13.95 Lunch / $22.95 Dinner
Chicken smothered in German Riesling wine sauce, mushrooms & herbs.
Münchner Sauerbraten – $15.95 Lunch / $24.95 Dinner
Roasted beef marinated in wine, vinegar & spices for days, resulting in tenderness, served in a tangy ginger snap gravy.