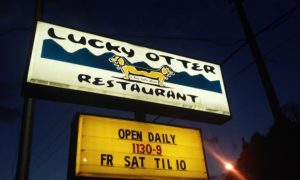 I love a good local joint. I don't mean one of these new pop up places that I see every time I turn my head either. I mean the establishments that have actually established themselves as an integrated member of the community. A dependable bedrock where all the Ashevillians know our margaritas will ALWAYS be spot on and strong, the nachos will ALWAYS be swimming in queso with savory toppings and there will NEVER be a question about the quality of goods provided. This, my friends, is the Lucky Otter.
The Lucky Otter is located in West Asheville and is a place that has proven it to be well oiled and well-seasoned machine. These people just know what they are doing through and through. They do not compromise on their dedication to supporting our local agriculture and businesses. The meats are grass fed and local, the wines are all organic and/or bio-dynamic, all the produce used is sourced locally by our farmers, the beer is local with the exception of PBR because…it's PBR, and everything they make in that brilliant kitchen of theirs is made daily from scratch.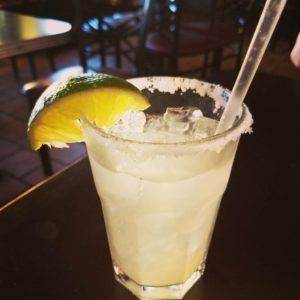 The menu is simple and pleasing to meat eaters, veggietarians and vegans alike. They have more of a mainstream take on Mexican food for their theme going on; burritos, nachos, fish tacos, quesadillas and the like. They also have amazing chili!
So you might be asking, "other than dedication to local and making things fresh, what is so great about this place?" Good Question.
The Lucky Otter makes dishes (and allows you to make your own dish too!) that uses different ingredients than usual. One of my favorite things to do is grab a house made margarita and build my own nacho plate. You get to choose from interesting nacho ingredients like mushrooms, corn, roasted garlic, mung sprouts, caramelized onions and sweet spuds . You can build them with your choice of either black beans or red beans and you pick one of four salsas too; mango salsa, tomatillo, hot and mild. I recommend the mango salsa!
This place is very chill, the servers are always pleasant and the food never disappoints. You can visit the Lucky Otter any day of the week from 11:30AM to 9PM. They are located in West Asheville at 630 Haywood Rd. Bon appetite!