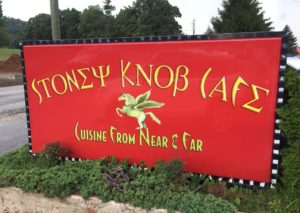 Stoney Knob Café is hands down my favourite place to dine in the Asheville area. Most restaurants you go to you can expect a particular theme. With Stoney Knob, the theme is so eclectic that it's like 10 themes all rolled into one. They are pros and obviously love what they do. The food is always made perfectly and I've never had a single complaint.
The joint is weird, no doubt about it. Its old world meets modernity meets disco ball meets Salvador Dali. The contradictions work, trust me. They have a room called the "red room" where the room is, yep, you guessed it, red. Its romantic with a sexy vibe going on and it even sports a cozy fire place which is perfect for dates in the autumn and winter!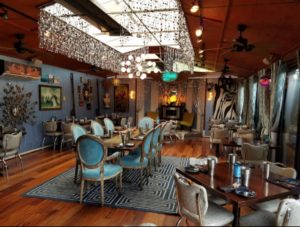 This local favorite is a cultural and culinary melting pot. I cannot think of a single place I can go to where I have the choice of moussaka, paella, seared Tokyo tuna, wild boar ragout, shrimp grits and lamb tacos. No matter what I am in the mood for (and let's be honest, I'm in the mood for it all) they always have something that appeases my belly goblin. They do tend to focus more on Greek, European and new Americana dishes but you can find things from all over the globe on their extensive menu.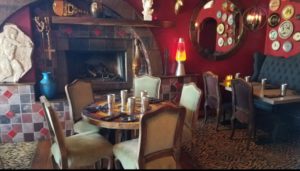 I would recommend thinking of getting reservations on weekends during the dinner rush just to be on the safe side. This is a local hub and the locals frequent it regularly. It's that kind of place where the owners will come over to make sure everyone is happy and knows the regulars in first name basis.
Stoney Knob is located in Weaverville and is only a short 10 minute drive from Asheville.
337 Merrimon Ave. Weaverville, NC 28787
Saturday 11AM–9:30PM
Sunday 9:30AM–3PM
Monday 11AM–9PM
Tuesday 11AM–9PM
Wednesday 11AM–9PM
Thursday 11AM–9PM
Friday 11AM–9PM