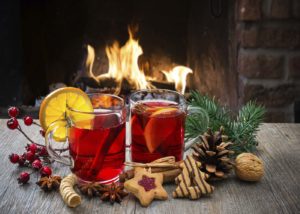 Winter is such a beautiful time of the year. Yes, it may be dreary and dreadfully cold but out of the not so pleasant chill comes a time for togetherness and traditions. One of my winter time traditions is making Glühwein to warm us from our tummy to our toes. This drink is cozy, celebrative and delicately sweet.
The German word "Glühwein" literally translates to "glow wine". Traditionally this Germanic winter staple is drunk around the holidays and the shopping season. Mugs are passed out by vendors in the Weihnachtsmarkt (Christmas shopping market) so you can glow with warmth and become pink like wineskin. It truly is a heart-warming drink and is always best when enjoyed with others.
Of course the Germans are not the only ones to enjoy this festive libation. The Nordic peoples call it Gløgg or Glögg, in the Netherlands they call it bisschopswijn (Bishops wine) and in Britain they refer to it as mulled cider. Here in the states it is usually called mulled wine.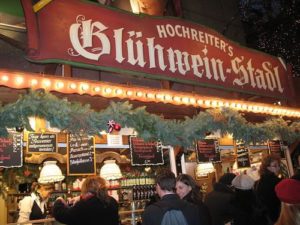 One of the perks of making this drink from scratch is how wonderfully divine it makes your house smell! It smells as though a perfectly snowy Christmas postcard has been brought to life within your home. This drink is perfect for talking walks through the snow, decorating the tree, singing carols, wrapping gifts or cozying up to a roaring fire.
Best of all, this is a simple drink to make! I do have some tips though…..
Some people say the wine you use does not matter when actually it does. I have found that when you use cheaper wine the recipe tends to use wayyyy more sugar. Sometimes even a cup more. Better wines cut the need for sugar. I like my Glühwein with a soft sweetness and not over powering. If you have a sweet tooth then using more sugar is probably for you.
Another tip which is actually more of a rule is DO NOT BOIL THE WINE!!!!! You will burn off the alcohol! And if you decided to add in a schuss (shot of hard liquor) of bourbon or amaretto then make sure to do it towards the end of the simmer.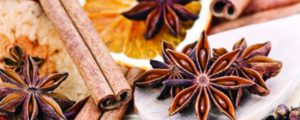 Glühwein Recipe
1 bottle of a red wine. I like a good cabernet for this.
¼ C granulated sugar (add more to create your desired sweetness)
¾ C water
Half an orange, including skins (organic)
15 cloves
3 cardamom pods
2 cinnamon sticks
2 star anise pods
Bourbon, amaretto, brandy (optional)
In a sauce pot bring the water, sugar and spices to a boil then turn down to a simmer. This is to get the spices hot enough to really release the flavors. Once cooled a bit, pour in the bottle of wine and simmer for about 20 minutes. I usually add a shot of bourbon about 5 minutes before I take it off the heat. Remember to taste as you go because you can adapt this recipe any way that suites you!
Other variations of Glühwein include ingredients such as peppercorns, blanched almonds, lemon, juniper leaves, vanilla pods, ginger, fennel and nutmeg. Feel free to experiment any way you like! My recipe is traditionally German and can be used as a great starting place!