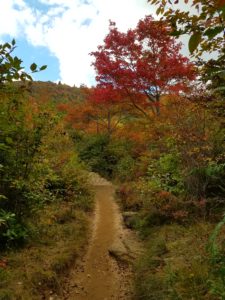 One of my favorite past times this time of year is to just load my car up with some snacks and hit the Blue Ridge Parkway for some random exploration. Most people that visit seem to think that they need to go to a particular destination in order to get good hikes with good views. I am here to tell you that this is just plain wrong!
All over the parkway in between the mile markers and lookout points are places to pull off to the side of the road. If you look closely you can see unmarked trails that disappear into the forest. I recommend trying one of these mystery hikes one day! I did and have no regrets! It is an exciting way to spend your day when you don't always know exactly what to expect. Having everything planned can be nice but eventually it can get boring. Spice up your day with a little adventure!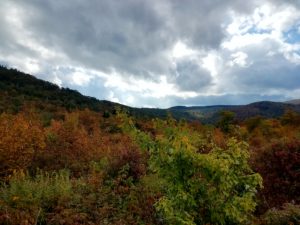 Just don't spice it up too much! Always remember to use your common sense. If you are on an unmarked trail and are taking lefts and rights or decide to go off trail completely (NOT RECOMMENDED) then always mark trees to help find your way back. Most trails are pretty straight forward though so fear not. The ones I go on are usually a straight shot all the way through.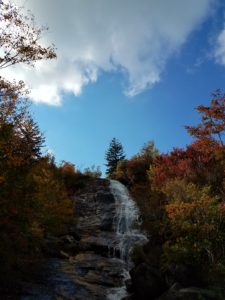 On our hike today we found blueberry bushes, brilliant mountain views with autumn colors, open pastures and even stumbled upon a waterfall! If you are wondering what waterfall it was….well….so am I!!! That is part of the beauty of taking a mystery hike with no preconceived notions of what you will see along the way. I may not know the name of where I was but I certainly built a beautiful memory that day with my kid.