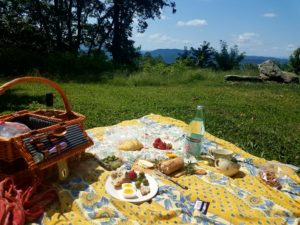 This weekend I was in desperate need for a picnic. With so much overwhelmingly bad news in the media I really wanted to get away from it all and take a moment to clear my mind. In the spur of the moment I decided to take a leap of faith and head to Jump Off Rock. As it turns out, Jump Off Rock is the absolute perfect place for said leap of faith, just not a literal one!
Jump Off Rock gets its name from a Cherokee Indian Princess that was distraught over the untimely death of her lover and threw herself over the rock face thus ending her life. Basically the exact same story of most cliffs and rock faces in the area. I really wish they'd come up with something more original already! For example; Jump Off Rock got its name because this is the place where baby flying squirrels would practice their jumps for soaring and gliding through the forest. Much cuter, much more realistic and much less depressing, don't you think? Flying squirrels for the win!
Oh yes, picnics. Right. I became distracted. Squirrel!!!!!
This is a sweet little nook for picnicking with panoramic views of the southern slope mountain ranges. There is a terrace set up for viewing and a great spot for getting outstanding picturesque shots of the area. I recommend going any time of the day, however, if you time it right you will get first row seats to an epic sunset.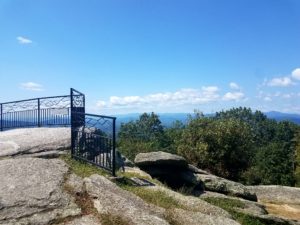 There are breathtaking trail heads perched around the terrace as well. One of the hikes is an easy short one for beginners and the other two are moderate and only a mile or two. At the entrance to the park you will see a marker designating which hike is which so you'll know exactly what you are getting into.
Ultimately, if I could use one word to sum this place up, it would be romantic. So grab your sweetheart, a blanket and some nomnoms and head over to Jump Off Rock. In the picture of my picnic spread I have a kalamata olive baguette, brie with rosemary, strawberries, castelvetrano olives, a croissant, chocolate, boiled eggs, blood orange sparkling water and a nice pinot grigio. It was amazing. And yes, I picnic in style. Thank you for noticing.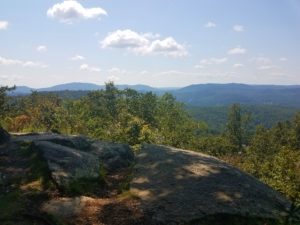 Jump Off Rock is located just 5 miles from downtown Hendersonville and is only about a 35 minute drive from Asheville. The drive once you get on Laurel Park Highway is beautiful with tree canopied roads winding up to a 3,100 foot summit.
The address is 4433 Laurel Park Hwy, Laurel Park, NC 28739.