Let's face it, Fall is nearly upon us. The leaves are already starting to turn and we can all feel the change in the air to that crisp cool that we love so much. Although autumn may sneak up on us it's always a well-received change here in the mountains. It's as though the entire season is treated like a holiday!
Here at the Wildberry people flock to us from all over the world like bees to a flower to see the extraordinary and jaw dropping changes of color to the mountains. It's a very busy time for us! With that said, it can also be a busy time for you too! Working families know what I am talking about here with the holidays creeping up and the kids going back to school….it's easy to get lost in the shuffle.
With all that chaos it can be easy to forget to stop and smell the roses….or should I say pumpkins?!?! So here are some fun ideas for you to unwind, relax and enjoy this fall season and all it has to offer.
Oktoberfest
Guten tag!!!! The 2017 Oktoberfest will be held in Pack Square in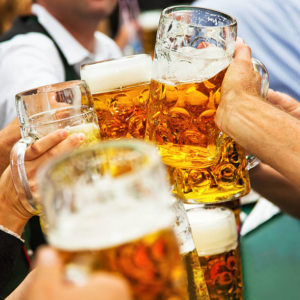 downtown Asheville. Tickets are on sale for $40 each and include a specialty tasting mug. What a brilliant way to try our local breweries in one spot! Live entertainment of yodeling, clog dancing and Asheville's very own party polka band named Lagerhosen will be adding to the festivities. Traditional German fare will also be abound with brats, kraut and giant pretzels! Prost!
Chili Cook-off
Doesn't that just sounds cozy? This chili cook off is held towards the end of October when it's nice and….chilly outside. Walking around sampling chili is such a great way to warm your innards and enjoy the day. This is the 27th year for this gathering on October 21st and much loved by locals and visitors alike. There will be live music, arts and desserts. Entrance fee is a $5 wrist band. Begins at 11AM and goes to 3PM. Located in Bryson City just an hours drive from Asheville, and even shorter from the Wildberry!
Explore the dark side of Beer City on LaZoom's Haunted Tour! Learn about Asheville's strange, sometimes sordid past from their ghoulish guides. You'll laugh! You'll scream! You'll discover mysteries and chilling tales of scandal and murder on the blood-stained streets of this picturesque town!
Joke time! What kind of streets do ghosts haunt? Dead ends!
Apple Harvest Fest
Free event held in Hendersonville from September 1st-4th. This event is so big they made it a four day celebration of our regions apples! Located in downtown, the festival covers a 10 block radius off Main Street. The much anticipated King Apple Parade will take place on Monday at 2:30 pm. Live music goes on until 11pm and there will be over 200 vendors. Did I mention how big this event is? Considering we are the 7th largest apple producing state in the nation; I bet you can understand why we take it so seriously!
Please please get out this Fall and enjoy some of the best things WNC has to offer!