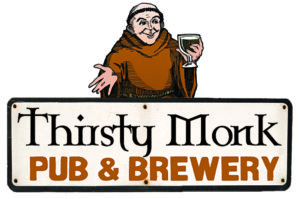 The Thirsty Monk is recognized as one of the absolute best beer bars in the world. That's a mighty fine designation, is it not? I think what sets this bar apart from every other contending bar is that they went old school. Instead of creating a basic bar experience with the modern designs and hipster touches they offer a space that has the look and feel of an old European basement; undoubtedly crafted with the help of crow bars and sledgehammers as opposed to architects.
The Thirsty Monk is known to be a Belgian bar but really, to me, it seems like its three bars in one. The main floor has that basic bar look to it offering local and American standard brews and a selection of pub food. They also have a nice little deck area out front.
Downstairs is a dimly lit basement with stone walls, deep leather couches and rustic wooden flooring. I dig it. If there was ever a time and place to be a basement dweller then this would be it! 16 Belgian brews are offered and 20 constantly rotating draft lines. This is where you will find the rarest and most exclusive brews you've ever tried, hands down. I tried ale here once and swore it was bourbon! What I love about the basement is that when I am trying a new brew I really relish that moment because I know when I come back the odds are that that beer will not be on the menu and may never be again.
The top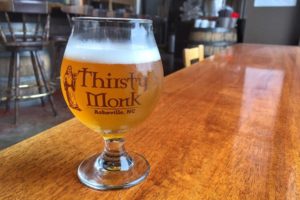 floor called, Top of the Monk, is the newest addition to the now iconic building. Once again, adding a completely different flare for an entirely different experience. Top of the Monk is like an emporium of craft cocktails with an impressive whiskey selection too. The atmosphere is both sophisticated and relaxing with a rooftop bar that is said to have the best views of the city of Asheville. They use freshly squeezed juices and create their own bitters, tinctures, infusions, drams, flavored syrups, and shrubs. Cocktails run about $15 but they are high class drinks that come with incredible views and totally worth it! If you do make it here, try to time it with a sunset, you won't regret it!
Downtown Asheville is the flagship location, located at 92 Patton Avenue. They have several other locations in Woodfin and the Biltmore Park. They are all great locations but for the full and most notable experience I'd head downtown. Every Wednesday is Pint-Night and you get to keep your very own Thirsty Monk glass. Have fun and drink responsibly!