We are in the thick of the summer. It is the time for thunderstorms and pink cheeks, fireflies and un-mowed grass, tire swings and water fights, grilling and bonfires, mosquitos and cocktails. The cocktails are especially helpful in forgetting about all those mosquito bites! Here are some outstanding summer time inspired cocktails to enjoy! Cheers!
Tomato Mojito
4 to 6 grape tomatoes (yellow and red)
6 fresh mint leaves, plus more for garnish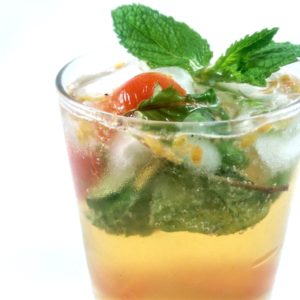 1 lime, cut in half
1 lemon, cut in half
pint of salt
2 tablespoons simple syrup or agave nectar
2 ounces tequila
1/2 cup club soda or sparkling water
When I first decided to give this a try, I admit was skeptical. I think of actual sweet fruits being in my cocktails, not tomato fruits. I'm pleased I did though because this drink is amazing! Its savory, sweet and salty and goes down super smooth.
In a cocktail shaker, muddle together the tomatoes, mint leaves, juice of half a lime, juice of half a lemon, and salt.
Pour in the simple syrup (or agave nectar) and tequila. Add ice and shake vigorously. Divide between two short glasses filled with lots of ice. Top off with club soda or sparkling water. Garnish with mint leaves, and a few grape tomatoes on a toothpick. Enjoy!
Melon ball wine spritzer
6 melo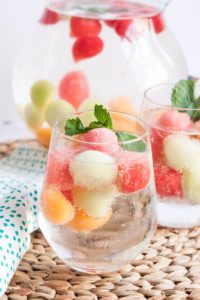 n balls (watermelon, cantaloupe, honeydew)
5 oz. Seven Daughters Crisp White Winemaker's Blend
3 oz. sparkling water
Ice
What I love about this recipe is how easy it is. It's sweet yet crisp and I could sip it all day long!
One hour in advance*, ball melons and place on baking sheet. Store in freezer to make fruit ice cubes/balls. If freezing longer than 1 hour, store melon balls in a freezer safe plastic bag until use.
Into a tall glass, add white wine and sparkling water. Stir. Top with 6 melon balls and a handful of ice.
Don't skip the wine infused melon balls at the bottom of your drink!!!
Rhubarb Sour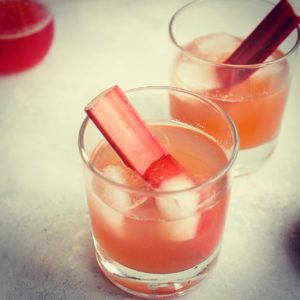 1 cup chopped fresh rhubarb, about 120 g
1/2 cup water
2 tsp granulated sugar
2 tsp lemon juice
3 tbsp amaretto
2 maraschino cherries
2 thin orange slices
I recently enjoyed this masterful cocktail while char-grilling some chicken on my porch. It is super east to make and a perfect thirst quencher on a hot summer day.
Combine the rhubarb with water, sugar and lemon juice in a blender. Purée until smooth. Strain through a fine-mesh sieve into a cocktail shaker. Add amaretto and a handful of ice.
Shake for 10 sec, then pour into 2 cocktail glasses. Garnish with a maraschino cherry and an orange slice.
Coconut Margarita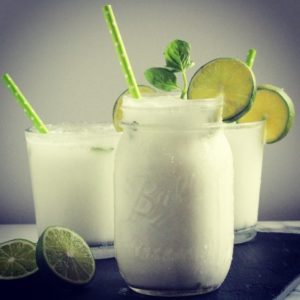 1½ ounces Patron reposado tequila
½ ounce cointreau
1 ounce coconut cream
1 ounce coconut milk
½ ounce fresh lime juice
Splash of half and half
Splash of simple syrup (1/2 cup sugar, ½ cup water brought to a boil until sugar dissolved, then cooled.)
lime wedges for garnish
Nothing screams summer quite like the humble coconut! I could not pass on summer cocktails without adding a coconut inspired drink to the list and this one does not disappoint. It's creamy and full and when I close my eyes I can picture myself on the beach in the Bahamas.
Shake and strain everything into a glass and serve on the rocks with a lime wedge.