Spanakopita i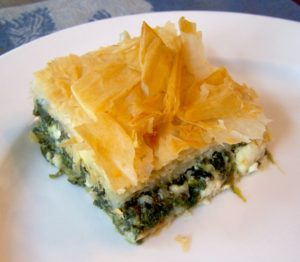 s a Greek spinach pie that has been popularized all over the world. It can be eaten as a main course, side dish or even for breakfast. The Greeks usually accompany it with tzatziki sauce (pronounced zat-ZEE-key) and it's very easy to make. Just take plain yogurt and using a crusher, crush a clove of garlic and half a skinned cucumber into it then stir in fresh lemon juice, a splash of olive oil and a pinch of salt and oregano. I pour tzatziki sauce over nearly everything I eat. I put it in my salads as a dressing; I pour it over my meats and enjoy it with my vegetables. It's definitely a well-stocked condiment inmy home!
This Balkan fare is savory and nutritious as well as a perfect way to easily incorporate your greens into your diet. This recipe is made in the traditional pie style as they do in Greece but if you want to make this as a mezze then you can also bake them into triangles with the filo dough which is more typical in America. Mezes are Greek for appetizers, also used to denote finger foods such as breads, olives and antipasti.
Spanakopita
1 package of frozen filo, thawed to room temp
½ to 1 C olive oil
16 oz frozen spinach
¾ C full fat ricotta
16 oz feta
Half an onion, chopped
¾ freshly chopped dill
3 cloves of garlic, minced
1 tbsp dried oregano
1 tsp salt
1 tsp garlic powder
DIRECTIONS
Pre-heat oven to 350 degrees.
In a large pot dry sauté the onions and garlic until tender. Add spinach and heat until fully thawed on medium heat. Continue to stir the spinach on the burner until the excess water is gone. The spinach should be wet and soft but not running. Add the salt, garlic powder, oregano and dill now. Take off heat.
While the pot is still hot add in the ricotta and stir until blended with the spinach mixture and then add the feta. I like to crumble half of the feta into small pieces and leave some bigger pieces for a nice salty bite of spanakopita every now and then. It also looks nice to have a bit of variation. Stir well and then taste test. Add in any extra zest to suit your palate.
Now comes the fun part. Filo is delicateso take extra care. If the filo starts to rip a little don't panic, just try to work with it. I usually have no issues with the filo as long as I have it at the right temperature. If it has not thawed completely it tends to stick. If you notice its sticking then just roll it back up in the plastic, place a moist cloth over it and check it at 15 minute intervals.
In a casserole dish, thinly coat the bottom and sides with extra virgin olive oil. Place first bottom layer of filo into the dish. Using a brush, gently coat the top of the filo with another thin coat of olive oil. Repeat this until you have 5 to 7 layers of filo. Add in the Spinach filling and smooth it out so it's even. Add the first top layer of filo now and do exactly what you did with the bottom layers. Only for the top layers I usually add just a tad bit more olive oil to make sure the filo gets that nice crunchy texture and perfectly golden color. I do about 10 layers of filo on the top. By all means you can use as much filo as you want though.
I like to take a pinch of oregano and sprinkle it on top to give it a pretty rustic look. Pop it in the oven for about 30 minutes. Oven vary but you'll know it's done when you see the filo turn that perfect golden color so just keep an eye on it.
καλή όρεξη! (good appetite in Greek)
Written by Kate Williams