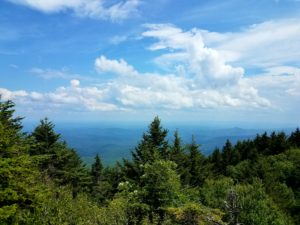 Grandfather Mountain got its current name when pioneers noted that the north face of the mountain resembled the profile of an old man with a beard looking up toward the sky. The original name was Tanawha meaning "a fabulous hawk or eagle". As there are many of both of these sky creatures hunting, playing and soaring in the vast big blue at Grandfather, this name is quite fitting.
About the Mountain
Grandfather Mountain is 5,946 ft above sea level with an impressive 16 distinct ecological communities due to the quick increase in elevation. It had been privately owned until 2008 when Hugh Morton, the man behind the preservation and vision of the mountain, passed away. The state then purchased 2,600 acres and it proudly became the 34th North Carolina State Park.
This is also where the most sought after of the Highland Games is held. This is an annual event honoring and remembering the Scottish ancestry and it brings people from all over the world. It is referred to as the "largest gathering of clans" and they couldn't be prouder.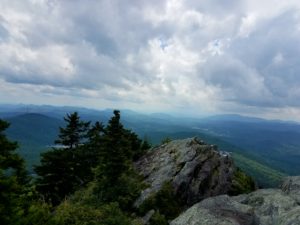 A fun fact about the mountains peaks is the freakishly high wind speeds. It is said that this mountain has experienced the highest surface wind speeds ever recorded with unverified speeds exceeding 200 mph. I can attest to this! I don't know how fast the wind was blowing when I was there but I can assure you that there were plenty of moments I was holding on to something in fear of blowing away. It was absolutely exhilarating! Girls, if you have long hair….bring a hair tie. You'll thank me.
Mile High Swinging Bridge
The M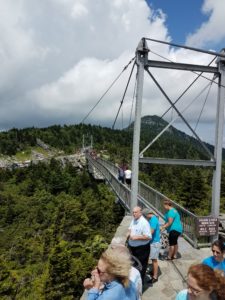 ile High Swinging Bridge was built by Hugh Morton in 1952 (then rebuilt again in 1999 with galvanized steel). It is a 228 ft suspension bridge that spans an 80 ft chasm at more than a mile high in elevation. This is said to be the highlight for most visitors. Another name for this bridge is the "singing bridge" because of the whistling sounds it makes when the winds rushes though. It's really quite beautiful to listen to. The bridge does sway a bit when the winds are up but not enough tobe alarming, just exciting. The 360 panoramic views from the bridge are nothing short of incredible. Once you have crossed the bridge there is a nice short walk over rocks and boulders that bring you to a peak on top of a boulder where you can just sit or lay down and have a moment to take in just how magnificent it all is.
Hiking
Grandfather Mountain has an expansive network of nature walks and hiking trails that ebb and flow through picturesque forests and meadows. For more seasoned hikers there are trails that take you through rugged terrain and require ladders and ropes to get you through. There are 11 trails ranging in difficulty. For safety reasons, if you are not back at your care by sundown, a search party will be sent out. I quite appreciate this precaution!
Wildlife Habitats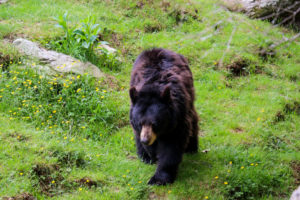 Wildlife habitats are large enclosures that allow visitors to view the animals in their natural settings. There are 7 environmental habitats here featuring the white-tailed deer, river otter, black bear, cougars, bald and golden eagles. One of the things I like most about this state park is their focus on putting education and awareness before the usual blitz of attraction. Here you will not find cotton candy, rides or dip n dots stands!
Nature Museum
If you are eager to learn about Grandfather Mountains natural history then look no further than the Nature Museum which does a wonderful job at providing over two dozen educational exhibits. To give you an idea as to the quality of the exhibits, the creator was Dr. Rolland Hower, former Chief of Natural History Exhibits of the Smithsonian Institution.
The museum boasts the finest collection of NC gems and minerals on public display, life-like wax models of our native flowers, berries and mushrooms and a look into some of the pioneers to explore the mountain such as Daniel Boone.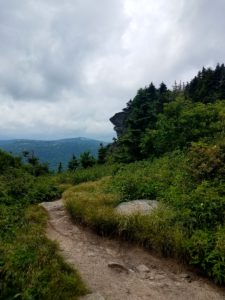 Fudge Shop and Grill
If you find yourself hungry then head on over to the fudge shop or the Grill. The Fudge Shoppe is located outside right before the pathway to the river otters. The grill is located inside across from the gift shop. They are reasonable priced and offer you basic sandwiches, hotdogs and hamburgers.
Admissions
Adults (13-59): $20
Senior (60+): $18
Child (4-12): $9
Children under 4 admitted free.
Ticket sales end one hour before the park closes. Grandfather Mountain is open every day of the year except for Thanksgiving Day and Christmas Day. It is recommended that you arrive before 11 a.m. or after 3 p.m. on summer weekends, holidays and fall color weekends. You'll move through the Gate more quickly, there will be fewer people in the park and the animals will be more active.
Spring Hours
9am to 6pm
Summer Hours
8am to 7pm
Fall Hours
8am to 6pm
Winter Hours
9am to 5pm