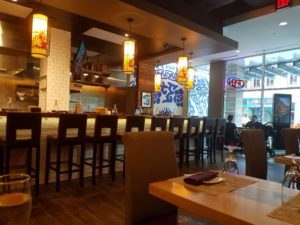 I heard that a Chinese restaurant opened up in Asheville in downtown and I was immediately both excited and skeptical. I have lived in the South all my life and I never felt that Chinese food was very well represented. I have read through some Chinese cookbooks and saw that what we think of as Chinese food does not accurately depict what food around the dinner table looks like in China. Much to my surprise, Red Ginger seems to have brought wholesome, nourishing and traditional Chinese food to Asheville and I could not be happier!
The restaurant is beautiful with authentic artwork displayed throughout made by artists in China. The atmosphere is quite modern looking with soft ambiance yet they also sport an open kitchen which makes things much more expansive and interactive.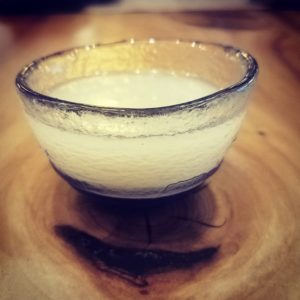 I started out with a bottle of chilled Nigori Sake to combat the heaviness of the heat outside. In no time my cheeks were pink and there was a huge smile on my face. I knew immediately I wanted to try the dumplings. After all, dim sum means dumplings so if you are going name a restaurant after that then you better know what you are doing. I ordered the Shanghai style pork dumplings. This particular style is called a soup dumpling. You receive them in a bamboo steaming basket and when you press into them a delicious mouthwatering broth flows out. They are nice to give you a spoon too so nothing goes to waste! The pork was perfectly flavored and tender and I highly recommend them. They did offer a dim sum sampler but I will save that for next time since I am definitely going again.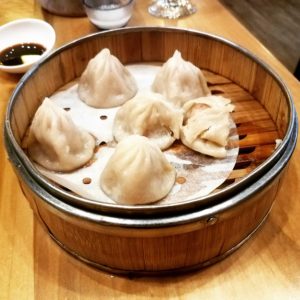 Next I ordered the dry sautéed string beans with a garlic brown sauce. They were incredible, perfectly tender with just a slight snap left in the bean. The garlic sauce was busting with flavor and the slightest amount of heat. I could have eaten a bucket of these. I appreciate how healthful the menu is. Whoever created it really knows what they are doing as it is well balanced with meat, seafood and vegetarian options.
Red Ginger Dim Sum is located in downtown Asheville right across from Park Square at 82 Patton Ave. They are open Monday-Friday from 11:30am-3:00pm then from 5pm-10pm. On Saturday 11:30 am-11:00 pm and Sunday from 11:30 am- 9:30 pm.
Written by Kate Williams