The building of the Blue Ridge Parkway is an extremely impressive story. A story with ample gumption and ingenuity that bears undeniable proof of our peoples desire to create something beautiful while uprooting us from the clutches of the Great Depression. For the parkway truly is a product of the impacts of the Great Depression of the 1930s. Through its creation jobs were generated and the tourism sector was significantly boosted; literally paving the way to a brighter future for the folks of the Appalachian.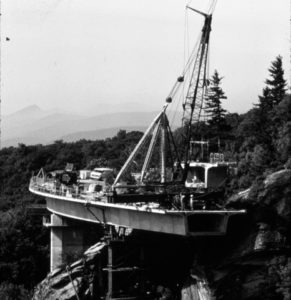 The idea for the Blue Ridge parkway was actually incepted decades before it became an economic necessity. Artists, philanthropists, politicians, doctors and investors alike wanted a comeback for the natural world during the massive undertaking of the industrialization of America. They felt as though America was becoming increasingly unhealthy and saw the need to protect the natural beauty that we were so quickly obliterating.
Work began to build the parkway near Cumberland Knob in September of 1935 during the administration of Franklin D. Roosevelt. The plan was to connect the Great Smokey Mountain and the Shenandoah National Parks with 469 miles of undulating terrain, panoramic vistas, wildness passage and access to scenic countryside's.
World War 2 lulled the progress to a halt which lead to an enthusiastic development program lead by the National Park Services in the 1950's. Up to this point, only 170 miles of the 469 were finished, paved and open to the public. This initiative, called MISSION 66, was implemented with the goal to finish the parkway by 1966. By the time the program ended, which funneled 1 billion dollars into funding the project over a 10 year period, only 7.5 miles of the parkway was incomplete at the base of Grandfather Mountain.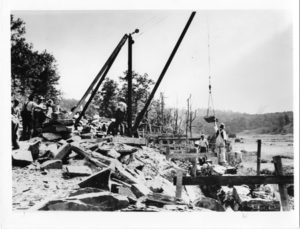 The completion of the parkway is nothing short of incredible. 16 million people visit the parkway annually making it the most popular and most visited park in the country by far. It crosses 4 major rivers and 168 bridges. It takes you over 6 mountain ranges and 6 viaducts and you pass through 27 tunnels with 26 of the 27 located in North Carolina alone. You ascend to a breathtaking 6,053 ft above sea level at Mt. Pisgah in North Carolina and drop down to 649 ft low at James River in Virginia.
It is a marvel at how much perseverance and engineering it took to make this dream a reality. The Blue Ridge Parkway is a true cultural treasure and a testament to humankind's desire to coexist with our natural world.
Written by Kate Williams