Petes Pies is the bees knees. It is a British gastropub located off of Lexington Ave in downtown Asheville. I heard that they have the most lovely and expansive of outdoor courtyards in the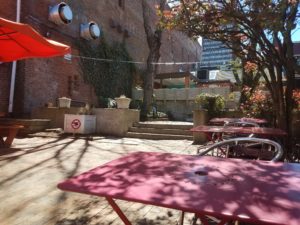 area so I made sure to dine on a warm and sunny day. And boy was it worth it! It tipped the experience way over the top!
The pub is tucked away like a secret away from the hustle and bustle of the busy streets. I noticed right away the care and intention that went into creating the wee herb gardens that ebbed and flowed throughout the patio tables. As it so happens, a master gardener brought the floralscape to fruition creating an ambiance that is as quintessential to English pubs as the word quintessential. Or bollocks. Pick your poison.
Some of the tables are canopied to provide shelter from the elements while others are little bistro tables that soak you in sunshine. There is also a quaint outdoor stage with a dual purpose. The first purpose, of course, is to enjoy live band sessions but they have another trick up their sleeve! They also have a pull down projection screen where they show English football games.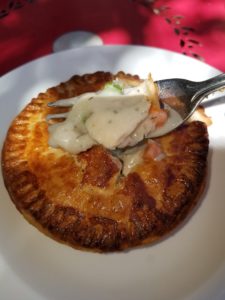 Inside Petes Pies they get straight to the point. A long bar extends half way through the pub right to the kitchen. Then there is a wall lined with tables and every seat in the house has a view of the telly to watch the games. A subtle tribute to England is a giant English flag that covers approximately half of the pubs floor! And of course, an elegantly framed picture of Queen Elizabeth. God Save the Queen!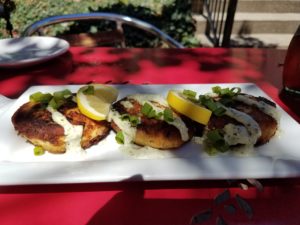 Oh, yeah….the food! I was so impressed with the delivery of the authentic British atmosphere that I got distracted from the star! The pies! I started my marathon with a UK Morland brew and the fish cakes made with cod and drizzled with a lemony house tartar. They were made very well. Not overly breaded, light in flavors, savory and bright. For my main entrée I went with the traditional Pub Pie, filled with peas, carrots and chunky pieces of chicken. It made any chicken pot pie I have ever eaten in the past a very distant and outshined memory. The pastry on this was heavenly; buttery, flakey and golden with a texture that just melts away in your mouth. By far the best pastry pie crust I have ever eaten. The chicken was thick and hearty and extremely tender. The creamy white sauce was delicious in that they tried nothing weird with it. It was balanced and not over salted, not too herby. Their pies are classic, hands down. No funny business! My son enjoyed the Lil Brit Dog; an English banger with bacon crumbles and thick hand-cuts chips (fries). He approved!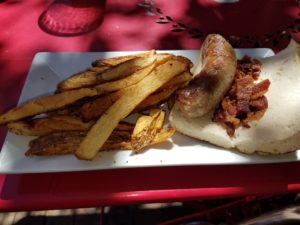 Needless to say at this point, we will definitely be back and I hope that if you Wildberry folks find your way on this side of the pond that you stop in for a wee taste of England. Cheerio!
Written by Kate Williams