"Dogs are not our whole life, but they make our lives whole". -Roger Caras
When I read this quote I immediately thought of our four-legged friends at the Wildberry. They have this spirit that seems to bind all of us together as a family. As though we are all individual components that just don't make sense without their presence. The unity and joy they bring to our hearts play a huge role not only in our day-to-day lives but also in what makes the Wildberry Lodge what it is. A haven.
Three dogs, two cats. Each have their own story, just like we all do. Ken and Glenda (owners and boss extraordinaire) built the lodge 16 years ago and it's as though they built along with it a mighty invisible beacon to signal that this was a safe place to be, a refuge if you will, and it has been summoning creature and people alike ever since.
I think about how much better the world would become if we could learn to love as unconditionally as dogs do. If we loved like cats, however, that would be bad. Imagine me spitting hairballs in Glenda's favourite shoes every time we had a disagreement. I'm not going to lie though, I've thought about it. I must be part cat.
Without further ado, I'd like to introduce to you the wildberry wild ones.
Dirty (sooty cat, 10 years old)
This chill mama cat wandered up to the lodge back in 2006. She got her name because she looks quite sooty even fresh out of a bath. Dirty got busy pretty quickly and surprised Ken and Glenda with five kittens! They adopted out all five cats to wonderful homes, their house included. You see, one of the kittens did not want to be adopted. She put her little paws up and refused to get into the cage to go to the adoption center and refused to come back out once she got there too! She even went so far as to sabotage her adoption process by acting like a bully and beating the crap out of all her sibling kittens so no one would want her. This is how Ken and Glenda brought home….
Pumpkin (orange cat, 9 years old)
Pumpkin played the game well. She chose her home and her home listened. Pumpkin is a loud mouthed meower who will shamelessly follow you around for rubs and attention. If you let up your hand for even a second, the meowing begins again. We love both these cats and their adoring affection.
Chloe  (black lab, 12 years old)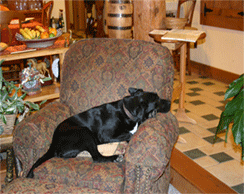 This well-fed goof ball came to us in 2006 when she was 2 years old.  Remember that we all have our stories and unfortunately for this sweet soul her story started out dark. Her original parents loved her but their neighbors did not. The neighbors dealt out an assortment of abuses including but not limited to kicking her and attempting to poison her.
With a history like that, I am inclined to say that Chloes real story started when Ken and Glenda adopted her and took her out of harms way. She was very shy and afraid when she first arrived and was still recovering from her previous life but quickly showed her loving spirit and happy-go-lucky personality.
Chloe LOVES food. She will try to convince you with her big sweet eyes that she is deprived of food but her adorable rotund belly gives her away. Don't let her fool you! She's a con-artist in the name of bacon scraps and belly rubs! She is by far that sweetest dog ever.
Ginny  (husky/whippet mix, 4 years old)
Oh Ginny…..
Ginny is something else. She definitely seems to hold herself above the company. We are her servants and she knows it. Calling her the leader of the pack simply does not do her diva attitude justice. Without a doubt she is the RULER of the pack and guardian of the lodge.
She definitely has the looks to back it up too. The words regal, striking and commanding come to mind and of course absolutely beautiful. Ken and Glenda saw her glamour shot on the internet when they adopted her from Blue Ridge Husky Rescue in July 2012. She rocks one brown eye and one blue and looks as though she's wearing enough eye liner to give any 80's rock band a run for their money.  It's no wonder Ken & Glenda fell head over heels in love with her.
With such a dynamic attitude as hers you can bet that Ginny has caused a bit havoc in the lodge over the years. Why are there so many missing buttons from Kens shirts? Ask Ginny. Why did the lodge require new tile in the great room? If you asked Ginny, she'd proudly tell you about how she pulled strand after strand out of the lovely berber carpet to make a big comfy bed fit for the doggie queen she is.
Oh Ginny…..
Cosmo  (german shepard, 5 years old)
Cosmo wandered up to the lodge around the same time Ginny came around. She was abandoned and just knew that the lodge was a place she could go to for safety. I remember it took weeks to get her to come into the lodge because she was so scared. Cosmo formed a very strong bond with Glenda and is a total momma's girl. I can't tell you the drama that ensues whenever Ken and Glenda need to leave for any duration of time. She pouts and throws fits like my toddler and howls and yips with pure happiness whenever they return. It shows all of us the love, trust and endless gratitude that Cosmo has for them.
She has really been opening up lately, more so now than ever, to people other than Ken and Glenda and it's thanks to the love and kindness she receives from everyone at the Wildberry Lodge.
In Loving Memory of Sassy (husky/shepard mix, 16 years old)
Sassy is the original protector and mascot of the Wildberry Lodge. During the construction period they found her under a rock and she was with them every step of the way from that day forward. They found her under a rock and she was their rock. Sassy was so very special to all our hearts and was the embodiment of steadfast, devoted and loving.
Fun fact about ole Sassafras
She apparently was not too keen about the arrival of Chloe and would lure her away from the lodge and escort her all the way down the mountain to the end of the drive way and just leave her there. Ken kept having to go down and bring her silly butt back.
Sassy, we miss you fiercely every day.
Written by Kate Randall