Outstanding local beer, Irish ballads, merriment and a dash of legend. This is Jack of the Wood. A Celtic style pub located in downtown Asheville and the original location of GreenMan Brewing.
Jack of the Wood's aim was to capture the character and style of Gaelic peoples as well as the country's food culture. Their menu is laced with traditional Irish pub grub such as Fish and Chips, Shepherds Pie and the Scotch Egg. All the epitome of simple, homely comfort food.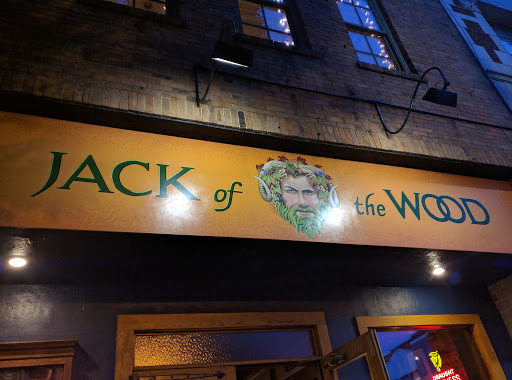 Jack of the Wood was known for their GreenMan Brewing ales, crafting delectable malty nectars since 1997. Although the brew house was sold, Green Man brews are still available here.  Also on tap is an ever-changing menu of local and specialty brews and of course if you are looking to imbibe in some serious merry-making they have a fine assortment of Bourbons and usquebaugh (whiskey in Gaelic).
Scot/Irish settlers flocked to this area for many unfortunate and trying reasons, but also in part because they were drawn to the rugged majesty of our highlands, no doubt reminding them of their homeland and hope for their future. Much of their identity is still imprinted in our local culture, most notably by way of folk music.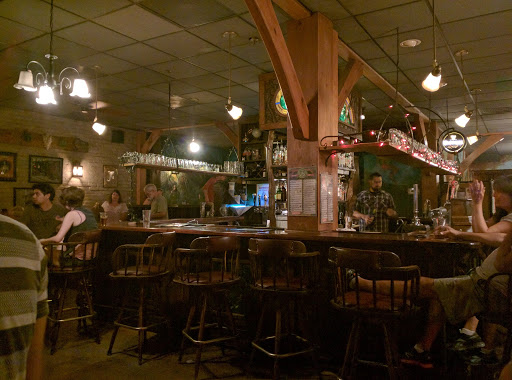 You will be hard pressed not to see a fiddle player somewhere in downtown captivating peoples with their spirited ditties, perhaps ensuing an impromptu, good ole fashioned hootenanny. Yeah, that's kind of our style. And Jack of the Woods exemplifies this style as well.
What is it about an Irish ballad that moves us so deeply? The music seems to capture the emotion and aspiration of an entire Nation. Instrumental poetry, if you will. Irish Sessions are hosted on Sundays and start around 3pm. The talent and sound varies and I hope you get to enjoy the uilleann pipes, celtic harp and the bodhran drum (the heartbeat of Irish music).
Wednesdays is the Mountain Music Jam and Thursdays are all about that good-ole fashioned bluegrass.
Who is the Green Man?
Have you ever walked into a forest of ancient woodlands and got the feeling that you were not alone? Many people believe that it is the GreenMan walking with you.
The GreenMan has always been with us. He is believed to be a symbol of life, death and re-birth and as a counter-part for the primal Goddess of earth, Gaia. He represents the strong reliance and union with our natural environment. He is a commanding yet comforting sight. A blend of man and forest often with vines and sometimes flowers coming out of his mouth, ears or nose. The artistic portrayals vary from time periods and cultural differences.
Most GreenMan depictions are of stone and wood carvings in churches, cathedrals, abbeys and chapels throughout Europe (most prominently in Britain and France). For many this serves as evidence of the strength and vitality of pre-christian traditions and beliefs. Most Celtic Gods and Goddesses were destroyed during the conversion period but the people simply would not let go of this beautiful and spiritual figure which is why we see it surviving alongside the christian religion, even today.
Written by Kate Randall