The Grove Park Inn is one of the most celebrated resorts in our history and widely recognized throughout the entire country. Ten U.S. presidents have stayed here such as Woodrow Wilson, Franklin D. Roosevelt and Barack Obama while countless celebrities like Thomas Edison and Dan Akroyd have graced the hallways.
The distinctive architecture is unparalleled and seems to mirror the brilliance of the mountains. Every stone was hauled from Sunset Mountain to create a timeless intimacy between the edifice and its natural environment.
The work ethic that went into building the hotel is practically unheard of. With a crew of 400 men working 10 hour shifts 6 days a week they completed the enormous project just shy of a year. They used mules, wagons and rope to transfer building supplies and much to my astonishment even moved 10,000 pound granite boulders!
The Great Hall is a feature with some real wow factor. You enter into a dimly lit room with 24 ft. ceilings and two stupendous 14 ft. stone fireplaces. The whole room is lined with an assortment of comfortable yet stately lounging chairs creating the perfect ambiance for relaxing with a fine bourbon in hand.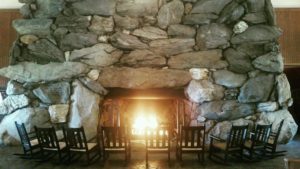 I go here just to perch on Sunset Terrace and take in the beauty of the city-scape and juxtaposing mountain views. No need to book anything for a peaceful day here.
Then of course there is the spa. This 43,000 sq ft subterranean spa is certain to leave a lasting impression. The elegance and attention to detail cannot be understated. Explore the cavernous rock walls and spiraling staircases, archways and tunnels in quiet and solitude.
You can easily spend an entire day here feeling at rest and peace whether you are booking treatment or not. A day-pass at the spa treats you to their numerous mineral contrast pools with therapeutic waterfalls, fiber optic starlight and soothing underwater music. You also have relaxation rooms with whirlpools, saunas, tanning beds, eucalyptus infused steam rooms and various nooks and crannies with fireplaces to curl up to a good book and hot tea.
You can view their website for hours and pricing as they do tend to vary. Booking your spa day in advance is highly recommended.
History
The man behind the vision of the Grove Park Inn is Edwin Wiley Grove, also known as the "Father of Modern Asheville". Upon launching his pharmaceutical business and the success of his elixir called the "Tasteless Chill Tonic" he went from rags to riches. Within the span of 20 years he sold 1.5 million bottles affording him a life style that he had only dreamt of.
Interestingly enough, it was his own maladies such as chronic bronchitis and exhaustion that inspired the creation of his best-selling tonic and also led to his doctor suggesting that clean mountain air would make him right as rain. Enter Asheville.
Inspiration and ambition arose from spending time in the Asheville Mountains, and that inspiration led to what we now know as the Grove Park Inn.
Written by Kate Randall