Bodacious Beats of Asheville
The drum circle holds a very special place in my heart. I am not a native here (transplant from, yep…you guessed it, Florida) and when I was researching for a new place to put roots down I knew I wanted a place with a down-to-earth and welcoming community.
I quickly learned of the drum circle and felt an instant pull. I also found it be quite representative of the way of life here. I say this because of how diverse the circle is. You have men, women and children of all ages, backgrounds and interests joining in together for the pure love of music, every Friday.
The drum circle is a great deal of importance to our Asheville tribe. Some even think of it as the heart of our community, and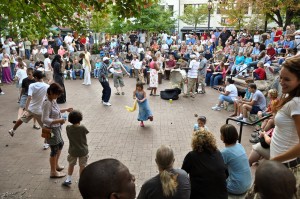 after living here for the last 7 years, I tend to agree.
The magic begins around 5 pm and continues into the night until about 10 pm, sometimes later. This event has an all-inclusive vibe to it, inviting anyone and everyone to participate whether you are a local or a visitor. You cannot help but to move and feel moved by the primal pounding of the drums!
A handful of lead drummers will start at the gathering and as soon as you are feeling the momentum and rhythm, join in and start adding those layers! There are often a variety of dancers joining in as well. From belly dancers to hula-hoopers to crazy-fun toddlers and children dancing wildly and howl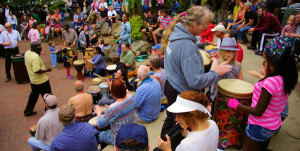 ing, you are sure to have a memorable time!
The circle is FREE and located in Pritchard Park in downtown Asheville every Friday. The only thing you have to worry about is the weather. If it is storming, odds are the circle will be canceled.
A new development is the movement to the Mountain Music Venue at 38 North French Broad Ave from the months of November to March, which is only a few blocks from Pritchard Park. Now the fun does not have to stop just because it's cold outside!
Drum on, folks. Drum on.
Written by Kate Randall