WNC NATURE CENTER
For couples and families seeking a fun, interactive and educational experience while in the WNC area, the Nature center is the place to be.
It boasts 42 acres of land and over 60 species of animals such as the River Otter, Red Wolf and Black Bear. Each species is native to the Southern Appalachia and an outstanding way to connect with our local wildlife.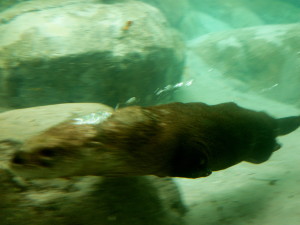 Something that really stands out to me about the Nature Center is how involved they are in conservation projects and wildlife rehabilitation efforts. They offer a home to orphaned, injured and abused animals; giving them a chance for revival and recovery. It's nice knowing that I am putting my money towards not only an enjoyable experience but also to a good cause that helps so many animals in need.
Did you know that the Red Wolf is the rarest of all candid species in the world? There are less than 400 red wolves alive today.
The Red Wolf Run program was created in the 1970's as a bold and proactive initiative to bring this native animal back from the brink of extinction. In fact, in the 1980's the red wolf was officially declared extinct because there were none left in the wild at the time.
Proudly, a lot has changed. The WNC Nature Center is one of the 30 facilities in the world to be a part of the Species Survival Plan and we now have, thanks to their tremendous efforts, over 50 red wolves thriving in the wild today!
My favorite area to enjoy is the Otter Falls.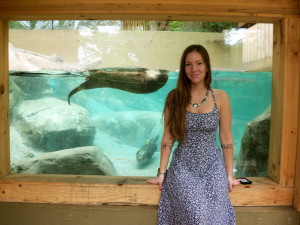 Otters' are so very fun and playful! You'll catch them somersaulting, wrestling and belly flopping in the water. They happen to be the most adorable underwater acrobats ever.
Another fun section to check out is the petting zoo if you adore hands on exploration like I do. The center does a fantastic job offering a place for safe interaction between people and animals.
We are not the only ones that get spring fever so right now is a smart time to head out and have a pleasant day. The animals are all out stretching their legs and happy to bathe in the suns warmth once more.
It takes up to half a day to fully experience all the Nature Center has to offer so you can take advantage of some of their picnic spots if you bring lunch and snacks. They also have an eatery called "Captain Dave's" as well as a gift shop.
Daily admission is Adults $10.95 (Asheville City Residents – $7.95)
Seniors (65 & over) – $9.95 (Asheville City Residents – $6.95)
Youth (3-15) – $6.95 (Asheville City Residents – $5.95)
2 and younger FREE!!!!
Open daily 7 days a week.