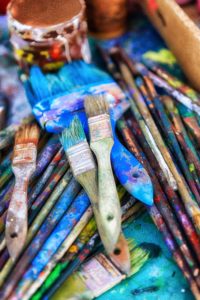 Artists, aspiring and otherwise, come to the Smokies-Blue Ridge area for inspiration. Asheville attracts artists like honey attracts bears. Sure, it's partly the beauty of the area and the crispness of the air, but events such as the Craft Fair of the Southern Highlands are a huge draw.
Creative Air of an Art Fair
This July 20-22 fair is the first half of 72 years of the Southern Highland Craft Guild showcasing makers. (The second fair is in October.) As members of the guild, these crafters are serious, vetted, and high quality. About 200 new and established artists will fill the U.S. Cellular Center with their contemporary and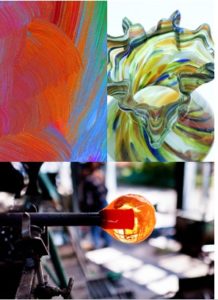 traditional pieces. They work in clay, metal, leather, wood, glass, fiber, and whatever else they may find. These pieces are deftly crafted by metal- and woodworkers, sewers, and glassblowers as well as potters and painters.
Thousands will come to the area—spectators and other makers, professional and amateur—to support, learn, enjoy, and breathe some of that creative air.
Take Time to Breathe
If you're among those the thousands or want to be, we invite you to stay with us at Wildberry Lodge. A bit removed from the frenetic urban pace, we are surrounded by that glorified mountain air so useful during the creative process. It may make you both more creative and more appreciative. Having given yourself permission to pamper yourself with a bed and breakfast experience may be just the release your mind needs to appreciate the art more.
If you can't attend the Southern Highlands Craft Fair, don't despair. Asheville barely misses a week without some type of arts showcase. Additionally smaller towns in the area hold their own master level art showcases. Banner Elk has three weekends of master crafters on display in shows throughout the summer. Burnsville, Maggie Valley, and Waynesville will be hosts to art fairs as well.
Meet the Artists
One of the great things about events like these is that attendees get to hobnob with the artists. These aren't galleries or tradeshows with salespeople and marketers hawking goods. In fact, the Southern Highland Craft Fair is a bit like a drive-about studio tour has landed in one place creating a walkabout tour where the artists attend to chat with you and provide demonstrations. They'll share personal glimpses into their working lives, talk about their inspirations and maybe provide inspiration as well. The added benefit of this fair and the smaller community ones is that they are fairs—expect food, music, and additional entertainment.
We are by no means pooh-poohing studio driving tours! Several of them are mapped out and available around our area throughout the year. These give you the opportunity to visit artists in their home environments and see works in progress as well as completed pieces. These are fabulous day trips that allow for multiple stops at interesting little towns, each with its own charm and claim to fame. They also allow that special driving experience that surrounds you with the area's beauty via backroads and roads less traveled.
Studio Tour in Our Back Yard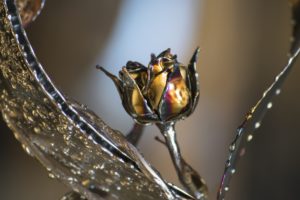 But on Aug. 17-18, you won't have to drive far from the Lodge. The Come to Leicester Studio Tour showcases our local artisans. Nearly 30 artists call little Leicester home. From fabric to iron, the variety of the works is as stunning as each piece.
For those who love art and the North Carolina mountains, but you aren't as excited by a show boasting 20,000 visitors, this is for you. Book your room early. Enjoy the studio tour as well as summer evenings with mountain breezes. And remember one or two days can be dedicated to art and one or two days can be dedicated to adventure – hiking, rock climbing, whitewater rafting. We'll gladly help you dedicate your days in the area to activity or just relaxing at the Lodge. Just ask!